EEO pay data collection portal is open for business
Posted July 17, 2019
On July 15, The U.S. Equal Employment Opportunity Commission (EEOC) opened a Web-based portal for the collection of pay and hours worked data for calendar years 2017 and 2018.
As ordered by the court's recent decision in National Women's Law Center, et al., v. Office of Management and Budget, et al., Civil Action No. 17-cv-2458 (D.D.C.), EEO-1 filers must submit Component 2 (pay) data for calendar year 2017, in addition to Component 2 data for calendar year 2018, by Sept. 30, 2019. Employers are to tally and report the number of employees whose W-2 pay for 12 months was in each of 12 pay bands. The pay bands would track with those used by the Bureau of Labor Statistics in the Occupation Employment Statistics survey.
Employers, including federal contractors, are required to submit Component 2 compensation data for 2017 if they have 100 or more employees during the 2017 workforce snapshot period. Employers, including federal contractors, are required to submit Component 2 compensation data for 2018 if they have 100 or more employees during the 2018 workforce snapshot period. The workforce snapshot period is an employer-selected pay period between October 1 and December 31 of the reporting year. Federal contractors and other private employers with fewer than 100 employees are not required to report Component 2 compensation data.
The EEOC has contracted with NORC at the University of Chicago to conduct the Component 2 EEO-1 Compensation Data Collection for 2017 and 2018.
In addition to the data collection portal available for all filers, a data file upload function and validation process is expected to be available no later than August 15, 2019, as an alternative data collection method for employers who prefer to utilize data file upload capability.
The EEOC published a final rule regarding the pay collection in February 2019 and comments were accepted until April 1.
The pay data is expected to provide EEOC and the Office of Federal Contract Compliance Programs (OFCCP) of the Department of Labor insight into pay disparities across industries and occupations and strengthen federal efforts to combat discrimination. This pay data would allow EEOC to compile and publish aggregated data that will help employers in conducting their own analysis of their pay practices to facilitate voluntary compliance. The agencies plan to use this pay data to assess complaints of discrimination, focus agency investigations, and identify existing pay disparities that may warrant further examination.
The EEOC continues to require employers to submit EEO-1 Component 1 data, which lists employees by job category, race, ethnicity, and sex.
This article was written by Darlene M. Clabault, SHRM-CP, PHR, CLMS, of J. J. Keller & Associates, Inc.
---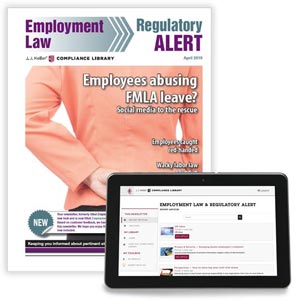 J. J. Keller's Employment Law & Regulatory Alert Newsletter explains why you need to care, what you need to do and how your business could be affected by HR industry news.
---
J. J. Keller's FREE HR SafetyClicks™ email newsletter brings quick-read safety and compliance news right to your email box.