Bill would prohibit the use of credit information in employment
Posted July 15, 2019
On July 11, the House Committee on Financial Services passed a batch of measures to reform the credit reporting system, and among the bills involved was the Restricting Credit Checks for Employment Decisions Act (HR 3614), which would amend the Fair Credit Reporting Act (FCRA) to ban the use of credit information for most employment decisions.
The bill would prevent employers from seeking credit scores or credit information when interviewing or determining whether to hire a potential employee. It would also prohibit hiring managers from asking questions about past defaults or bankruptcies during a job interview or including questions about credit history on applications.
The bill has two exemptions for national security clearances purposes and instances where credit check is required by local, state, or federal law.
In support of the measure, Congressman Al Lawson, sponsor of the bill indicated that "An individual's history does not prove a person's ability to perform a job well. When used in employment decisions credit scores only serve to limit an individual's opportunity." Credit record errors can also serve as a barrier to employment, even if the individual actually has a good credit record.
Proponents of the measure agree with Lawson, arguing that credit checks help to keep otherwise qualified individuals out of a job, often having a more negative effect on low- to middle-income individuals. Studies have consistently found that African American and Latino households tend, on average, to have lower credit scores than White households.
Opponents of the measure argue that it is too broad, that employers with certain positions use that information to make sound hiring decisions, and to protect the business, customers, and others.
Employers who perform such checks may see signs of financial distress, for example, indicative of the risk of theft or fraud; that the candidate is unorganized or irresponsible. Large student loan debt can also play a factor, since it can increase financial distress, which could tempt an employee to engage in risky behaviors such as bribery or other shady means of financial gain. The same could be true for large medical bills.
Some studies show that about 50 percent of employers perform such credit checks on job applicants. Currently ten states have passed laws restricting employment credit checks.
Credit checks are most commonly used for positions in which employees deal directly with money or access to financials, whether accountants or coffee baristas.
In today's tight labor market, more employers may forego such checks, or not take them into a high level of scrutiny.
This article was written by Darlene M. Clabault, SHRM-CP, PHR, CLMS, of J. J. Keller & Associates, Inc.
---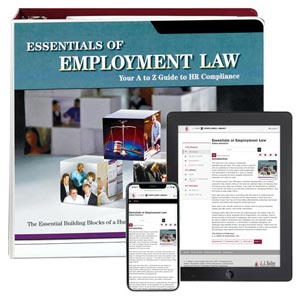 J. J. Keller's Essentials of Employment Law Manual covers more than 100 vital HR topics, including FMLA, ADA, HIPAA, FLSA, COBRA and more.
---
J. J. Keller's FREE HR SafetyClicks™ email newsletter brings quick-read safety and compliance news right to your email box.