Annual air quality report shows emissions of key air pollutants decreasing
Posted July 22, 2019
EPA recently released its annual air quality report, which shows that between 1970 and 2018, the combined emissions of six key pollutants dropped by 74 percent.
From 2016 to 2018, emissions of key air pollutants continued to decline:
Nitrogen Oxides: 8.7 percent
Particulate Matter 2.5: 1.9 percent
Particulate Matter 10 (Including lead): 1.2 percent
Sulfur Dioxide: 7.8 percent
Carbon monoxide: 7.2 percent
Volatile Organic Compounds (VOC): 3.3 percent
Average concentrations of harmful air pollutants decreased considerably between 1990 and 2018:
Ground-level ozone (8-hour): 21 percent
Fine Particulate Matter (annual): 39 percent (from 2000)
Coarse Particulate Matter (24-hour): 26 percent
Sulfur dioxide (1-hour): 89 percent
Nitrogen dioxide (annual): 57 percent
Lead (3-month average):82 percent (from 2010); and
Carbon monoxide (8-hour): 74 percent
EPA says variations in weather and natural events such as dust storms and wildfires can have an impact on air quality in affected areas, and that the increases in these areas had a small, but noticeable, impact on the national average.
---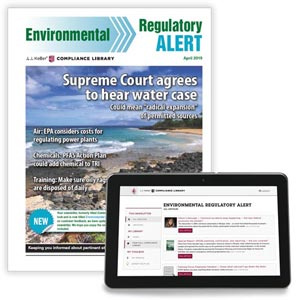 J. J. Keller's Environmental Regulatory Alert Newsletter helps you stay on top of the latest environmental enforcement issues.
---
J. J. Keller's FREE Workplace SafetyClicks™ email newsletter brings quick-read safety and compliance news right to your email box.