Report: Outdated laws create roadblocks for truck platooning
Posted July 26, 2018
A new report on state traffic laws has found that two-thirds of U.S. states have "following too closely" laws that prevent the growth of truck platooning.
Platooning involves a line of trucks following each other closely using automated speed and spacing controls, resulting in reduced drag.
The new report from the Competitive Enterprise Institute (CEI) says platooning technology promises cost savings and increased safety, but outdated state laws stand in the way.
"Automated vehicle technology for freight trucks could reduce the cost of transporting consumer and manufacturing goods and lead to safety gains, but only if state lawmakers first change driving laws to allow the new technology," said Marc Scribner, CEI senior fellow and author of the new report.
The report calls on states to adopt language that says "following too closely" laws do not apply to "the operator of any non-leading vehicle traveling in a procession of vehicles if the speed of each vehicle is automatically coordinated."
Enhanced safety
"Automated platooning technology allows trucks to travel closer together, thereby reducing aerodynamic drag, while still allowing them to move safely at highway speeds," Scribner explained. "With reduced drag, platooning vehicles will reduce fuel consumption, and tailpipe emissions, and enhance highway safety through automatic emergency braking capabilities that will remain effective outside of platoon formations."
The CEI report includes a nationwide inventory of state "following too closely" laws and offers state-by-state fixes to amend statutes so that truck platoons are exempt from those laws.
Sixteen states have already passed reforms that allow platooning, the report notes, but the majority of states have not.
---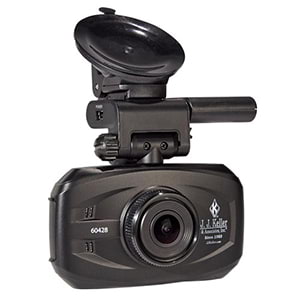 J. J. Keller's Dash Cam captures video recordings immediately before and immediately after an event or accident for documented proof.
---
J. J. Keller's FREE Transportation SafetyClicks™ email newsletter brings quick-read safety and compliance news right to your email box.