New safety standard addresses hazards of constructing, demolishing wind turbines
Posted July 3, 2018
The American Society of Safety Professionals (ASSP) announced a new standard addressing the construction and demolition of wind turbines. ANSI/ASSP A10.21, approved in April by the American National Standards Institute (ANSI), sets the minimum requirements for protecting workers who construct or demolish utility-scale, land-based wind turbines.
Wind turbines convert the kinetic energy of the wind into electrical energy. According to ASSP, wind energy production has grown from 23,900 megawatts in 2001 to almost 540,000 megawatts last year. The growth of the wind industry highlights the need for the new standard, titled Safety Requirements for Safe Construction and Demolition of Wind Generation/Turbine Facilities.
Challenges facing workers in the industry include remote work, working at heights, limited access, and turbine manufacturer variables. ANSI/ASSP A10.21 establishes requirements for site hazard identification, equipment, and training. The standard says contractors must develop a site-specific plan that addresses the hazards of working in a remote location, including lack of emergency response, spotty communication networks, and environmental issues such as weather and wildlife.
In addition, contractors must evaluate the hazards confronting wind turbine workers, such as unguarded moving parts and exposed electrical components. The new standard also sets requirements for cranes and rigging used during construction, and calls for qualifications for crane operators, riggers, and signal workers.
---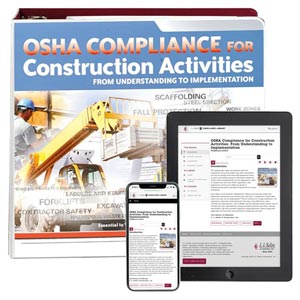 J. J. Keller's OSHA Compliance for Construction Activities Manual explains complex Part 1926 regs in easy-to-understand language.
---
J. J. Keller's FREE Workplace SafetyClicks™ email newsletter brings quick-read workplace safety and compliance news right to your email box.