July brings minimum wage increases and posting changes
Posted July 13, 2018
Minimum wage increases aren't something to watch for only in January. Several states and cities increase their minimum wage and update their minimum wage posters each July.
This July 1, changes became effective in:
Maryland – The new state rate is $10.10 per hour. (The 2018 rate is also on the 2016 and 2017 versions of the state's minimum wage poster, so employers are in compliance with the 2016, 2017, or 2018 version of the Maryland minimum wage poster.) In addition, the minimum wage increased in Montgomery County, Maryland.
Nevada – The minimum wage remains $7.25 per hour for employers with qualifying health benefits and $8.25 per hour for other employers, but the 2018 version of the minimum wage bulletin needs to be displayed. In addition, the 2018 overtime bulletin must be posted.
Oregon – The standard minimum wage increased to $10.75 per hour. The Portland metro rate went up to $12 per hour, and the rate in nonurban counties was raised to $10.50 per hour.
Washington, D.C. – The minimum wage increased to $13.25 per hour for employees who do not receive gratuities, and to $3.89 per hour for employees who receive gratuities. (The 2018 rate is on the district's 2017 minimum wage poster, so employers displaying that version of the poster remain in compliance.)
California – The cities of Belmont, Emeryville, Los Angeles, Milpitas, Pasadena, San Francisco, San Leandro, and Santa Monica increased their minimum wage. The rate also went up in Los Angeles County.
Illinois – The minimum wage increased in Chicago and Cook County.
Maine – Portland's minimum wage increased.
Other state and local laws that took effect July 1 had a posting impact as well. These include:
Oregon – Equal Pay
Vermont – Protections for Victims of Crime
San Francisco – Consideration of Salary History
In addition, South Carolina recently updated its Employment Discrimination poster to add information about pregnancy accommodation. Employers must display the updated poster by September 14.
Businesses often think about making sure posters are in compliance when a new year rolls around, but it's important to remember that mandatory posting changes can occur at any time of the year.
This article was written by Terri Dougherty, SHRM-CP, PHR, of J. J. Keller & Associates, Inc.
---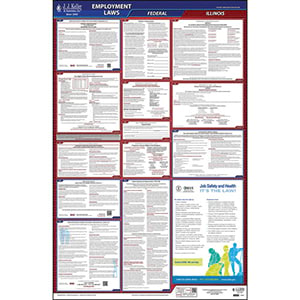 J. J. Keller's State & Federal Employment Law Posters help you meet state and federal labor law posting requirements.
---
J. J. Keller's FREE HRClicks™ email newsletter brings quick-read human resources-related news right to your email inbox.