Groups sue OSHA over changes to e-Reporting rule
Posted July 27, 2018
On July 25, Public Citizen, the American Public Health Association, and the Council of State and Territorial Epidemiologists filed a lawsuit against OSHA with the U.S. District Court for the District of Columbia, arguing the Agency broke the law by suspending parts of its electronic recordkeeping rule ("Improve Tracking of Workplace Injuries and Illnesses").
The lawsuit alleges OSHA did not follow the required notice-and-comment rulemaking procedures outlined in the Administrative Procedure Act, and lacks the legal authority to suspend the reporting requirement without first undertaking this procedure. Instead, the Agency announced on its website that it was suspending the July 1, 2018, reporting deadline; was not accepting or requiring workplace injury and illness data beyond the 300-A Summary data; and was drafting a proposed rule to "reconsider, revise, or remove provisions" of the 2016 final rule.
Originally, the Improve Tracking of Workplace Injuries and Illnesses rule intended larger establishments (250 employees) to submit their 300 Log data and 301 Incident Report data along with the 300-A Summary data to OSHA. (Smaller establishments – those with 20-249 employees in high-risk industries – were only required to submit their 300-A data.) The plaintiffs asked the court to order OSHA to require and accept the workplace injury and illness data, as required by the rule.
Of note, the Office of Management and Budget (OMB) recently completed its review of OSHA's proposed proposed rule to reconsider aspects of the original 2016 final e-Reporting rule.
---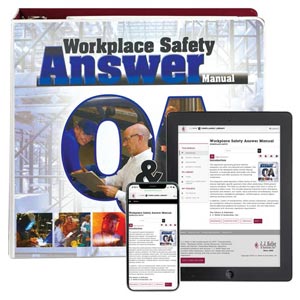 J. J. Keller's Workplace Safety Answer Manual provides a single-source manual that offers quick answers to a wide array of workplace safety questions.
---
J. J. Keller's FREE Workplace SafetyClicks™ email newsletter brings quick-read workplace safety and compliance news right to your email box.