FMCSA withdraws proposed SMS enhancements
Posted July 17, 2018
The Federal Motor Carrier Safety Administration (FMCSA) announced it is not moving forward with its proposed changes to its Safety Measurement System (SMS) and has removed a preview of the changes from the SMS website.
Background
The FMCSA initially proposed enhancements to the SMS methodology in a Federal Register Notice on June 29, 2015, including:
Changes to the intervention thresholds,
Revisions to the Hazardous Materials Compliance BASIC methodology, and
An increase in the maximum Vehicle Miles Traveled used in the Utilization Factor.
Stakeholders were given 30 days to comment to the proposed enhancements.
In a second Federal Register Notice on October 5, 2016, FMCSA:
Announced a preview of the proposed enhancements to the SMS website,
Responded to comments to the June 2015 Notice, and
Advised stakeholders of additional enhancements.
The agency found itself at a standstill when it came up against a provision in the Fixing America's Surface Transportation Act (FAST Act). It required the National Research Council of the National Academy of Sciences (NAS) to conduct a study of FMCSA's Compliance, Safety, Accountability (CSA) program and SMS. NAS published its report, "Improving Motor Carrier Safety Measurement," on June 27, 2017.
FMCSA accepted the recommendations contained in the report, including the suggestion to develop a new statistical model to support the SMS. FMCSA has indicated it is working to implement the recommended changes. The NAS cautioned the agency against making changes to the algorithm based on ad hoc analysis and instead to rely on the Item Response Theory model.
As a result of the ongoing implementation of the NAS recommendations, FMCSA made the decision to remove the preview from the SMS website and withdraw the proposed changes at this time.
---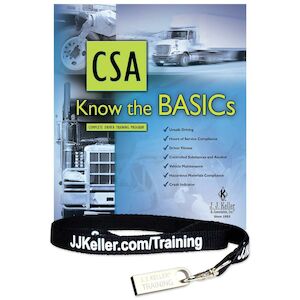 J. J. Keller's CSA: Know the BASICs - DVD Training helps train your drivers on CSA, the 7 BASICs, scoring & evaluation and FMCSA interventions.
---
J. J. Keller's FREE Transportation SafetyClicks™ email newsletter brings quick-read safety and compliance news right to your email box.