DOT requests nominations for human trafficking advisory committee
Posted July 9, 2018
The U.S. Department of Transportation (DOT) is seeking nominations for membership on its advisory committee to fight human trafficking.
The Secretary of Transportation will appoint up to 15 external stakeholder members for the life of the committee.
The committee will include representatives from:
Trafficking advocacy organizations;
Law enforcement; and
Trucking, bus, rail, aviation, maritime, and port sectors, including industry and labor.
The diversity of the group will enable the committee to carry out its functions.
Committee's duties
The committee is the result of the Section 5, "Establishment of the Department of Transportation Advisory Committee on Human Trafficking," of the "Combating Human Trafficking in Commercial Vehicles Act."
It is tasked with:
Providing information, advice, and recommendations to the U.S. Secretary of Transportation on matters relating to human trafficking, and
Developing recommended best practices for states and state and local transportation stakeholders in combating human trafficking.
Deadline for nominations
Nominations for committee members must be received on or before 5:00 p.m. ET on August 20, 2018. DOT encourages nominations submitted any time before the deadline. After that date, the Department will continue to accept nominations under this notice to fill any vacancies that may arise. Individuals can self-apply or be nominated by any individual or organization.
To learn more about the nomination process and required elements of the application, visit www.gpo.gov.
Selection process
A selection team comprised of representatives from the Office of the Secretary of Transportation will review the application packages. The team will provide the Secretary with its recommendations based on the applicant's:
Expertise, experience, and knowledge, including professional or academic expertise;
Stakeholder representation;
Availability and willingness to serve; and
Relevant experience working in committees and advisory panels.
Nominations are open to all individuals without regard to race, color, religion, sex, national origin, age, mental or physical disability, marital status, or sexual orientation.
Nominees selected for appointment to the committee will be notified by return email and by a letter of appointment.
---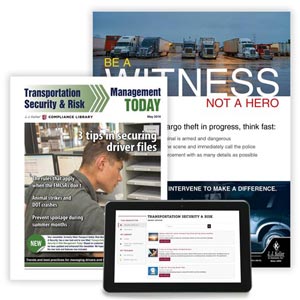 J. J. Keller's Transport Safety Risk Management & Security Newsletter keeps you up-to-date on the latest security and motor carrier safety risk management.
---
J. J. Keller's FREE Transportation SafetyClicks™ email newsletter brings quick-read safety and compliance news right to your email box.