Courts continue to rule that unlimited leave is not reasonable
Posted July 18, 2018
The Americans with Disabilities Act (ADA) requires covered employers to provide reasonable accommodation to the known disability of an employee or applicant. For employees, leave has been seen as a reasonable accommodation. A number of courts, however, have found that unlimited leave is not reasonable. The Third Circuit now joins in this principle.
Stanley, the employee in the current case, injured his shoulder at work. He requested leave with a beginning date, but no real end date. The leave was granted, but when he showed up over a week earlier than expected, he was terminated. He went to work for a related company, but this required a longer commute. He filed an ADA claim.
The court ruled that the leave Stanley requested was not a reasonable accommodation because it was indefinite. The basis for such a holding reflected the fact that an accommodation of a short period of definite leave would enable an employee to perform his essential job functions in the near future, for example if the leave was taken in order to schedule a future course of treatment.
It indicated that the request for leave "specified neither a leave for a definite period, nor a return in the near future." The employee did ask for time off and it was granted. The testimony at the later depositions, however, indicated that "the request for leave was worded loosely as being for a few weeks or a few months." There was no record that leave was requested as an accommodation or that it was requested for a definite rather than an open-ended period of time.
This court seems to be following a theme not only of indefinite leave not being reasonable, but that leave for a short period of time would be reasonable, not extended leave of multiple months. This resembles the 7th Circuit's holding in Seversen v. Heartland, that an individual who was on long-term medical leave is not a qualified individual because "inability to work for a multi-month period removes a person from the class protected by the ADA."
Even the EEOC agrees that unlimited leave is not reasonable. If you have an employee who cannot provide at least an estimate of when he or she will return, you need not provide the leave as a reasonable accommodation under the ADA. How much leave is reasonable, however, remains a moving target. Employers in the 7th Circuit (Illinois, Indiana, and Wisconsin) might have a bit more wiggle room.
Kieffer v. CPR Restoration & Cleaning Services, LLC; CPR Restoration, Inc., 3rd Circuit Court of Appeals, No. 16-3423, May 15, 2018.
This article was written by Darlene M. Clabault, SHRM-CP, PHR, CLMS, of J. J. Keller & Associates, Inc.
---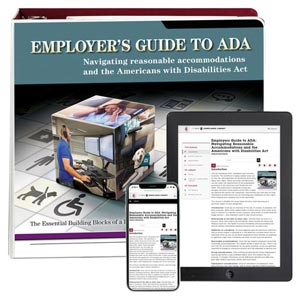 J. J. Keller's Employer's Guide to ADA Manual explains Americans with Disabilities Act accessibility guidelines related to hiring, training, and compensation.
---
J. J. Keller's FREE HRClicks™ email newsletter brings quick-read human resources-related news right to your email inbox.