Automated driving systems to be discussed in the next FMCSA MCSAC meeting
Posted July 3, 2018
Automated driving systems (ADS) are the focus of an upcoming public meeting of a Federal Motor Carrier Safety Administration (FMCSA) advisory committee.
FMCSA's Motor Carrier Safety Advisory Committee (MCSAC) will meet in July 2018 to continue its discussions from June 2017. MCSAC will provide recommendations to the agency on:
ADS-equipped commercial motor vehicles;
The development of the agency's fiscal year (FY) 2018-2022 strategic plan; and
The review of FMCSA's safety regulations to identify potential opportunities to reduce regulatory burdens while ensuring that federal safety programs continue to achieve safety outcomes.
The meeting will be held July 30-31, 2018, from 9:15 a.m. to 4:30 p.m., Eastern Daylight Time (EDT) at the U.S. Department of Transportation, Oklahoma City Rooms A, B, and C, 1200 New Jersey Avenue SE, Washington, DC 20590.
MCSAC's meeting will be open to the public for its entirety. Oral comments from the public will be heard throughout the meeting, at the discretion of the MCSAC chairman and designated federal officer.
Interested parties may submit written comments on the topics to be considered during the meeting by Wednesday, July 18, 2018, to Federal Docket Management System, Docket Number FMCSA-2006-26367.
Copies of the MCSAC Task Statements and an agenda for the entire meeting will be made available in advance of the meeting at www.fmcsa.dot.gov/mcsac.
---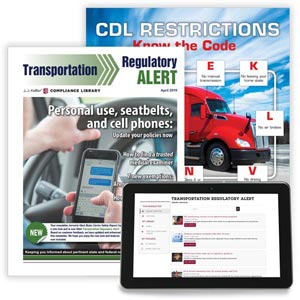 J. J. Keller's Motor Carrier Safety Report keeps you current on federal and state compliance information that impacts your drivers, trucks, and bottom line.
---
J. J. Keller's FREE Transportation SafetyClicks™ email newsletter brings quick-read safety and compliance news right to your email box.