Survey reveals possible missing links in job candidate experience
Posted July 3, 2017
Any business process is only as strong as the weakest link — and candidate experience is no different.
A new CareerBuilder study outlines the complex perceptions, attitudes and behaviors of both candidates and hiring managers to better help employers identify and address where they fall short in their current process, which may be putting them a step behind competitors.
Research and insights from CareerBuilder's 2017 Candidate Experience Study show what peers and competitors have identified as shortcomings in their process, illustrate the role for technology to help improve the process and provide tips to make things easier for employers and prospective employees. Here are some aspects employers are struggling with:
Not having a quick apply process for every device: The application process itself can contribute to a negative experience for modern candidates as "applications taking too long" (28 percent), "having to customize documents for every job" (34 percent) and "uploading a resume into a system but still having to manually fill out fields" (29 percent) are reiterated as frustrating aspects of the process by a considerable amount of candidates.
Not having an effective career site: An employer's career site is important for getting key information, according to 89 percent of job seekers. But 24 percent of employers say their company career site doesn't accurately portray what it's like to work for their organization, and only 45 percent of candidates say they can typically tell what it would be like to work for a company based on their career site.
Not tailoring communications methods to specific segments: The ever-emerging multigenerational workforce demands a shift in the way we communicate. Millennials significantly prefer email communications (57 percent) over phone calls (31 percent), whereas boomers significantly prefer phone calls (58 percent) over emails (37 percent). Gen Xers have equal preferences towards email and phone calls (47 percent for both). Further, millennials are 2-3 times more likely to prefer alternative communication methods (text messaging, social media messaging, and video calling) compared to Gen X and baby boomer generations.
Not informing the candidate where they stand: More than half of job seekers say employers don't do a good job of setting expectations in terms of communication at the beginning of a potential hiring interaction. Eighty-one percent of job seekers said continuously communicating status updates to candidates would greatly improve the overall experience.
Not paying attention to how their employer presence/brand is portrayed on social media: Employers are trying to reach an audience, and they can't afford to let their brand's social media pages fall by the wayside. Yet, 60 percent of employers don't monitor their employer presence/brand on social media. Of those who do, 68 percent take steps to encourage positive reviews while 16 percent just react to negative information.
---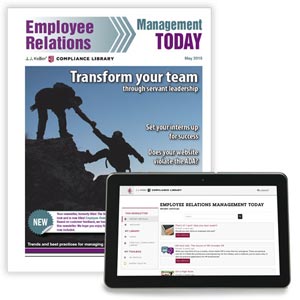 The SUPER adVISOR™ newsletter contains four pages dedicated to the HR manager and a corresponding four-page pullout dedicated to the needs of supervisors.
---
J. J. Keller's FREE HRClicks™ email newsletter brings quick-read human resources-related news right to your email inbox.