Survey: Employees in the nation's capital say the 9 to 5 work day is a thing of the past
Posted July 31, 2017
The traditional eight-hour workday may soon be the exception rather than the rule, and Washington, D.C. is paving the way for change.
According to new CareerBuilder research, 73 percent of workers in the nation's capital think the traditional 9 to 5 work day is a thing of the past. This compares to 68 percent in both Boston and Los Angeles, and 66 percent in New York. Other city breakdowns include:
Chicago: 60 percent
Dallas: 62 percent
Houston: 58 percent
Miami: 55 percent
Philadelphia: 55 percent
Overall, 61 percent of workers say the traditional 9 to 5 workday is an idea of the past, a belief held more so by those ages 45-54 (68 percent), compared to those 18-24 (45 percent), 25-34 (59 percent), 35-44 (61 percent), or 55+ (64 percent).
Broken down by industry, those in leisure and hospitality are most likely to think traditional hours are outdated (75 percent), followed by those in sales (64 percent), and information technology (62 percent).
Working around the clock
While those in D.C. might think traditional hours are out the door, they're not necessarily the ones most often working outside of office hours. Those in Boston and Dallas (both 54 percent) are most likely to report working outside office hours, followed by Washington, D.C. (53 percent). Other city breakdowns include:
Los Angeles: 50 percent
Chicago: 48 percent
New York: 43 percent
Philadelphia: 43 percent
Houston; 42 percent
Miami: 41 percent
Strategies for managing flexibility
Even though employees may not be working the typical workday, the survey recommends these strategies for a sense of work-life balance. Managers should:
Explain the rules. Even in a flexible environment, there are rules. It could be that employees are given free rein in terms of when they arrive and when they leave, or, there may be ranges of time when managers expect employees to be in the office. Make sure you make employees aware of what's expected and stay within those boundaries.
Establish a rhythm. Others on the team will undoubtedly need to know when coworkers are coming or going. Maybe on Mondays, some employees arrive early and are out early, and Fridays they arrive later than usual to get an early morning workout in. Make it easy for your team to know when they can drop by a coworker's desk and chat about the latest project.
Set expectations for deliverables. Make sure employees know what they are expected to deliver and when. Enjoying the freedom of self-scheduling works best when employees assure their managers the work will get done on time and as committed.
Survey methodology
This survey was conducted online within the U.S. by Harris Poll on behalf of CareerBuilder among 3,696 employees ages 18 and over (employed full-time, not self-employed, including 3,462 in the private sector) between May 24 and June 16, 2017. With a pure probability sample of 3,696, one could say with a 95 percent probability that the overall results have a sampling error of +/- 1.61 percentage points.
---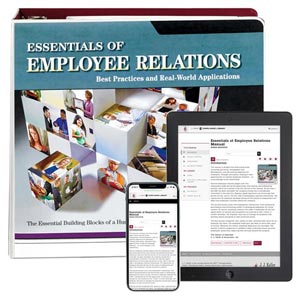 J. J. Keller's Essentials of Employee Relations Manual provides critical HR best practice tips and real-world applications in one convenient resource.
---
J. J. Keller's FREE HRClicks™ email newsletter brings quick-read human resources-related news right to your email inbox.