Occupational court ruling proves importance of consistent training, documentation
Posted July 14, 2017
A case decided by Administrative Law Judge Sharon D. Calhoun emphasizes the importance of consistent training and documentation. OSHA had cited a masonry contractor for inadequate training after an employee was injured while unloading a damaged crate containing massive marble slabs.
Specifically, OSHA alleged a serious violation of 29 CFR §1926.21(b)(2) for failing to instruct employees in the recognition and avoidance of unsafe conditions and the regulations applicable to the work environment to control or eliminate hazards. The contractor faced a penalty of $1,600.
The contractor contested the violation before the Occupational Safety and Health Review Commission, which heard the case in February. The Court vacated the citation and removed the penalty assessment, saying that the contractor provided instruction that any reasonably prudent employer in the same circumstance would give.
During his testimony, the project foreman was able to produce a completed Pre-task Plan (PTP) showing he had talked to employees about setting stone and distributing stone, proper lifting techniques, and watching out for pinch, crush and crush points, keeping body parts away from those areas, struck by hazards, electrical, and respiratory hazards. The foreman also testified he consistently conducted a weekly Job Safety Analysis (JSA) and held safety meetings where he provided more specific instruction than what is on the JSA and PTP.
In addition, the injured worker testified about the weekly training he had received. He stated that even though specific issues may not have been discussed every day, safety instructions were provided to workers on a "fairly regular basis."
In vacating OSHA's citation, the judge said that the Agency had failed to prove its case. The employer regularly and consistently provided safety talks and could back it up with a written training plan.
---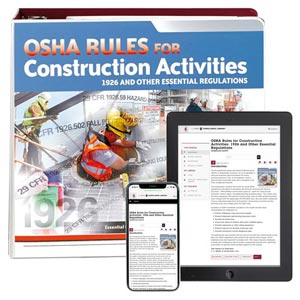 J. J. Keller's OSHA Rules for Construction Activities is an easy-to-use source for up-to-date word-for-word Part 1926 and referenced 1910 regulations.
---
J. J. Keller's FREE Workplace SafetyClicks™ email newsletter brings quick-read workplace safety and compliance news right to your email box.