House appropriations bill address ELDs, CSA, and driver breaks
Posted July 13, 2017
Riders in the House Transportation, Housing and Urban Development (THUD) appropriations bill place restrictions on specific mandates, and as result prevent the Federal Motor Carrier Safety Administration (FMCSA) and some state agencies from pursuing certain enforcement and regulatory activity. Specifically, it addresses a livestock exemption for hours of service, safety ratings, and driver breaks.
ELD mandate and livestock transportation
If THUD is passed, FMCSA is unable to enforce the use of electronic logging devices (ELDs) by operators of commercial motor vehicles transporting livestock or insects, according to Section 132 of the act.
The term "livestock producer" means a person that is actively engaged in farming and receives a substantial amount of total income from the production of grain or livestock. The term "livestock" includes cattle, elk, reindeer, bison, horses, deer, sheep, goats, swine, poultry (including egg-producing poultry), fish used for food, and other animals designated by the Secretary of the Department of Agriculture.
Safety Fitness Determination
Section 133 of the appropriations bill ties FMCSA's hands in regard to revising its safety fitness determinations for motor carriers. Regulations that were intact on December 4, 2015, cannot be modified until the Inspector General of the Department of Transportation certifies that FMCSA has complied with the requirements in the Fixing America's Surface Transportation (FAST) Act.
Using its Compliance, Safety, Accountability (CSA) enforcement model, FMCSA proposes the use of roadside inspection and crash data and/or investigation results when making a motor carrier safety fitness determination.
The FAST Act requires FMCSA to submit a report to Congress on the CSA enforcement model and address deficiencies that are identified in the program before the Inspector General can certify it has met the conditions of the statute.
Driver breaks
Section 134 of THUD cites its federal authority over states and other jurisdictions by placing limitations in respect to mandatory breaks.
The act prevents states and other authorities from prohibiting employees — whose hours of service are subject to 49 CFR Part 395 — from working to the full extent permitted. States and other political authorities may not impose any additional obligations on motor carriers if the employee is working to the full extent allowed under the federal hours-of-service rules, including any related activities regulated under Part 395.
This article was written by Kathy Close of J. J. Keller & Associates, Inc.
---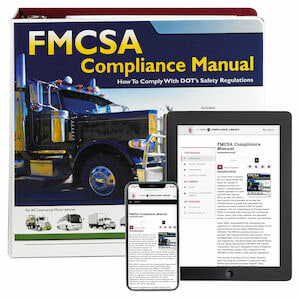 J. J. Keller's FMCSA Compliance Manual helps companies operating commercial motor vehicles (CMVs) comply with DOT regulations.
---
J. J. Keller's FREE Transportation SafetyClicks™ email newsletter brings quick-read safety and compliance news right to your email box.