Washington State moves forward with wildfire smoke rulemaking
Posted June 11, 2021
Washington State is moving forward with a rulemaking to protect outdoor workers from wildfire smoke and will hold a hearing on a draft emergency standard June 18. Some of the issues that may be addressed are:
Identification of harmful exposures
Communication
Training and instruction
Control of harmful exposures
The Division of Occupational Safety & Health (DOSH) of the Washington State Department of Labor and Industries (L&I) says it recognizes the hazard of wildfire smoke exposure is increasing every year and presents potential health risks to all outdoor workers, including those in construction and agriculture. L&I also received a petition for rulemaking.
The virtual stakeholder meeting will be held June 18 from 1-3PM. Registration is available on L&I's website.
This article was written by Rachel Krubsack of J. J. Keller & Associates, Inc.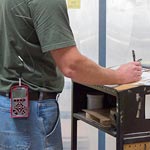 Looking for more on workplace safety?
Get the information and products you need to stay on top of industry changes and comply with regs.