OSHA's FY 2022 budget requests more inspectors, standards personnel
Posted June 4, 2021
As part of its FY 2022 budget, OSHA requested 155 inspectors as well as $28,450,000 and 95 full-time employees (FTE) for the Safety and Health Standards activity, which is an increase of $10,084,000 and 30 FTE over FY 2021. OSHA plans to publish five final rules, four proposed rules, complete one SBREFA panel, and publish one request for information (RFI).
The highest priorities among the rulemaking projects are:
Infectious Diseases,
Prevention of Workplace Violence in Healthcare and Social Assistance,
Medical Removal Protections for Silica,
Improving Tracking of Workplace Injuries and Illnesses, and
Personal Protective Equipment Fit in Construction.
OSHA plans to use the requested increase to advance these high-priority rulemakings. The agency says the additional funds will ultimately enable it to progress more quickly through the complicated and lengthy rulemaking process.
In addition to the rulemakings, OSHA says it anticipates continuing with the major outreach initiatives associated with safety and health programs and heat stress, and producing 20 guidance products related to rulemaking activities and on a variety of safety and health topics.
This article was written by Rachel Krubsack of J. J. Keller & Associates, Inc.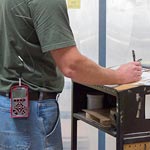 Looking for more on workplace safety?
Get the information and products you need to stay on top of industry changes and comply with regs.