OSHA issues silica standards enforcement guidance
Posted June 30, 2020
OSHA has issued inspection and enforcement procedure guidance for its compliance safety and health officers (CSHOs) when addressing respirable crystalline silica exposures in general industry, construction, and maritime.
The new directive, CPL 02-02-080, provides guidance on how to enforce the silica standards' requirements, including:
Methods of compliance;
Table 1 tasks and specified exposure control methods;
Exposure assessments;
Housekeeping;
Respiratory protection;
Regulated areas;
Recordkeeping;
Employee information and training;
Medical surveillance; and
Communication of hazards.
The guidance also provides clarity on topics such as alternative exposure control methods when a construction employer does not fully and properly implement Table 1; variability in sampling; multi-employer situations; and temporary workers.
OSHA began enforcing most provisions on the following dates:
Construction - September 2017, with enforcement of the requirements for sample analysis starting in June 2018.
General industry and maritime - June 2018, with enforcement of some medical surveillance requirements beginning on June 23, 2020.
On June 23, 2021, OSHA will begin enforcing requirements for engineering controls for hydraulic fracturing operations in the oil and gas industry.
This article was written by Rachel Krubsack of J. J. Keller & Associates, Inc.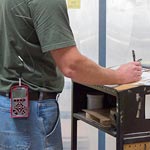 Looking for more on workplace safety?
Get the information and products you need to stay on top of industry changes and comply with regs.