Methylene chloride poses unreasonable risks to workers
Posted June 25, 2020
EPA's final risk evaluation for methylene chloride shows that it poses unreasonable risks for workers, occupational non-users (anyone working nearby), and bystanders. The findings complete the risk evaluation process required by TSCA for methylene chloride.
EPA says it will now begin the process of developing ways to address the unreasonable risks identified. The Agency has up to one year to propose and take public comments on any risk management actions.
For now, EPA says workers should continue to follow label instructions and applicable workplace regulations and should properly use appropriate personal protective equipment (PPE). Employers should consider substituting a less toxic alternative for methylene chloride.
In 2019, EPA prohibited the chemical's manufacture, import, use, distribution, and sale for consumers.
Common uses of methylene chloride are as a solvent in vapor degreasing, metal cleaning, in the production of refrigerant chemicals, and as an ingredient in sealants and adhesive removers.
This article was written by Rachel Krubsack of J. J. Keller & Associates, Inc. The content of this news item, in whole or in part, MAY NOT be copied into any other uses without consulting the originator of the content.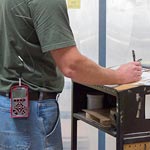 Looking for more on workplace safety?
Get the information and products you need to stay on top of industry changes and comply with regs.