Federal OSHA COVID-19 enforcement update, states issue mask guidance
Posted June 11, 2020
State and federal OSHA agencies have been responding to COVID-related complaints. State agencies may have adopted requirements for wearing masks under particular circumstances, and have been enforcing those provisions.
A spokesperson for the United States Department of Labor reported that, as of June 7, 2020, Federal OSHA has received 4,872 valid COVID-related complaints. The agency initiated 471 COVID-related inspections, and issued one COVID-related citation. The citation was issued to an employer for failing to report work-related hospitalizations in the time required by OSHA's recordkeeping rule at 1904.39. The spokesperson noted that OSHA will continue to prioritize COVID-related inspections.
Two state OSHA agencies recently published guidance on mask requirements based on risk evaluations.
Washington state OSHA published a guidance titled "Which Mask for Which Task." Based on potential risk, employers can evaluate whether to require homemade cloth masks, disposable KN-95 masks, NIOSH-approved N-95 masks, or full-face respirators. The publication defines the following risk levels:
Negligible: Cloth face coverings may be required in some circumstances when the risk is negligible (very low). You don't need a face covering if you work or drive alone, but a cloth face covering is required if you work outdoors or in a building around several other people and need to pass within six feet of them once or twice a day.
Low: A cloth face covering is required when risk for transmission is low, such as working around others while staying at least six feet apart, except for briefly passing others several times a day. Risk is also considered low when one or two workers provide personal services to healthy clients who also wear a cloth face covering.
Medium: Risk for transmission is considered medium when you stay at least six feet away from others, but several times per day the six-foot distance is broken for several minutes and prevention measures such as physical barriers aren't feasible. Risk is also considered medium when three to six people work in a room providing personal services to healthy clients who wear a cloth face covering.
High: Risk for transmission is considered high when working or traveling within three feet of others for more than 10 minutes an hour, many times a day and other prevention measures aren't feasible. Risk is also considered high when cleaning and sanitizing areas recently occupied by a person with known COVID-19 illness.
Extremely high: Transmission risk is extremely high when you work in residential or non-hospital or clinic settings within six feet of people with COVID-19.
Michigan OSHA also published guidance on evaluating risks. In that guide, very high risk jobs include health care providers such as doctors and nurses, while high risk jobs include things like medical support staff. Medium risk jobs include those that require frequent or close contact (within six feet) of people who may be infected. Lower risk jobs do not require contact with people known or suspected to be infected, as well as jobs that do not require frequent or close contact with members of the public. The guidance describes various types of masks and the protections offered.
This article was written by Ed Zalewski of J. J. Keller & Associates, Inc.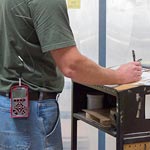 Looking for more on workplace safety?
Get the information and products you need to stay on top of industry changes and comply with regs.