When does the seven years for negative criminal-history information begin?
Posted June 14, 2019
The federal Fair Credit Reporting act (FCRA) prohibits the reporting of adverse information for more than seven years. When does that seven years begin? Does it begin when the charge is filed, or any time before the charge is settled? The Ninth Circuit weighs in.
Case in point
While the case behind this decision involves a background check related to housing, the same law applies to background checks when employers use a third party.
In February 2010, Gabriel, the individual in the case, applied for housing, and at the property owner's request, a third party prepared a tenant screening report – a background check. The report disclosed four criminal matters in Gabriel's background, one from May 16, 2000, which was dismissed in 2004, two June 2006 charges dismissed that same month, and a June 2006 conviction.
After reviewing the report, the property owner denied Gabriel's rental application.
Fast forward to 2012, when Gabriel sued the third party, arguing that the 2000 charge that was dismissed in 2004 should not have been included in the report. The lower court granted the owner's request for dismissal of the claim that it violated the FCRA by including Gabriel's 2000 charge, holding that the seven-year reporting period for a criminal charge begins on the date of disposition, rather than the date of entry.
Unhappy with this outcome, Gabriel appealed, and basically won. The appeals court found that, because more than seven years had passed since the date the charge was entered (May 2000), it should not have been included in the report. The law indicates that the seven-year window is directly connected to the adverse event itself, meaning the onset of the issue, not the resulting conclusion.
Therefore, the FCRA permits consumer reporting of a criminal charge for only seven years following the date of entry of the charge, rather than the date of disposition. Further, the dismissal of a charge does not constitute an adverse item and may not be reported after the reporting window for the charge has ended.
If your organization performs criminal background checks using a third party, make sure the seven-year window being used is one that begins when the charge is entered, and not when it is finally settled. While this may seem like a detail, often, cases are ruled based on such details.
Moran v. The Screening Pros, Ninth Circuit Court of Appeals, No. 12-57246, May 14, 2019.
This article was written by Darlene M. Clabault, SHRM-CP, PHR, CLMS, of J. J. Keller & Associates, Inc.
---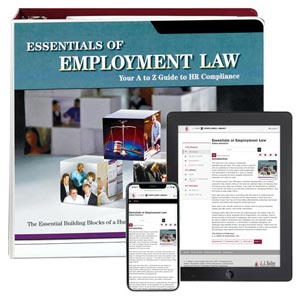 J. J. Keller's Essentials of Employment Law Manual covers more than 100 vital HR topics, including FMLA, ADA, HIPAA, FLSA, COBRA and more.
---
J. J. Keller's FREE HR SafetyClicks™ email newsletter brings quick-read safety and compliance news right to your email box.