The trend continues: State anti-harassment laws
Posted June 24, 2019
When the federal government doesn't act, states often step in to help fill what they see as a void. Such is the case with specific anti-harassment laws. The federal laws and most states have laws against discrimination, and these usually include prohibitions on harassment. Some state laws, however, go beyond what the federal laws require of employers, including a requirement to train supervisors and sometimes all employees.
Some of the latest activity regarding state anti-harassment laws is as follows:
Nevada
Employers may not prohibit employees from talking about sexual misconduct allegations that were settled through such venues as nondisclosure agreements. This is effective July 1, 2019 and is similar to already existing laws in California, New Jersey, and New York.
New York
The bar for making complaints was lowered; no more need for severe or pervasive behavior. Employers no longer have a defense argument that an employee failed to use an internal complaint procedure. Employers are liable for acts of contractors. Nondisclosure and mandatory arbitration restrictions apply to all types of discrimination. A related notice and policy must be given to all employees at hire and at annual training. (While not yet enacted, the law is expected to be signed by the Governor.)
Connecticut
All employers must provide sexual harassment to supervisors by 10/2/2020. Employers with three or more employees must also train all employees. Corrective actions taken by employers are limited.
Illinois
Employees are protected from discrimination based on actual or perceived protected class. Non-employees in the workplace are also protected. Annual training must be on all forms of discrimination/harassment. (While not yet enacted, the law is expected to be signed by the Governor.)
These are simply the latest changes in an ongoing trend that continues to see an uptick since the #MeToo movement began. If your state does not currently have such laws, it could be simply a matter of time before it does. Employers need not wait for laws to be passed to adopt some of these provisions, including the training, since such training has been shown to help prevent harassment from occurring.
While the focus might have begun with sexual harassment, many states are expanding this to include all forms of discrimination. After all, harassment can be based on many different aspects.
This article was written by Darlene M. Clabault, SHRM-CP, PHR, CLMS, of J. J. Keller & Associates, Inc.
---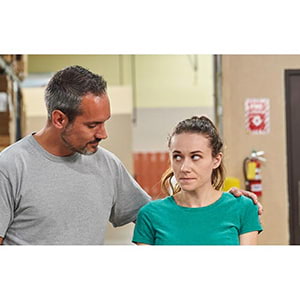 J. J. Keller's Sexual Harassment Prevention Training helps all employees—including bystanders—address unwanted and unlawful sexual harassment in the workplace and learn how to respond if an incident does occur.
---
J. J. Keller's FREE HR SafetyClicks™ email newsletter brings quick-read safety and compliance news right to your email box.