Many question allowing under-21 interstate CDL drivers
Posted June 4, 2019
While the motor carrier industry anticipates the announced changes to the hours-of-service regulations from the Federal Motor Carrier Safety Administration (FMCSA), presumably on Friday, June 7, another hot-button trucking topic continues to generate public buzz.
The FMCSA on May 15 began seeking industry comments on a potential pilot program to eventually allow drivers ages 18 to 21 to obtain their commercial driver's licenses (CDLs) to operate in interstate commerce.
Since the request for comments was published in the Federal Register, more than 275 public comments have been submitted. The public can submit comments until July 15 at the Federal eRulemaking Portal at document number FMCSA-2018-0346. After the deadline, FMCSA will consider the comments before announcing a final ruling.
A scan of the comments submitted as of Monday, June 3, shows an overwhelmingly negative reaction to giving 18- to 21-year-olds with CDLs the opportunity to work in interstate commerce. A sampling of the comments includes:
"We need a pilot program that will prove these young people are mature enough to drive interstate … I am not so much worried about the driving aspect as it pertains to safety with an under 21-year-old if they are trained correctly. Where I do worry is when the individual is down for their rest period or 34-hour restart. How mature will their choices be? There are numerous temptations on the road …"
"As long as proper training is emphasized on allowing 18-20-year-olds to drive interstate than I am a proponent of this pilot program. As with anything, at any age, it comes down to the proper education and mindset."
"I feel it's a real safety hazard. Simply put, these drivers have only one to two years driving on major highways in non-commercial vehicles. Putting them in vehicles that weigh at least 80,000 pounds is a big risk. … I think young people take higher risks because they don't see the dangers."
"Lower the age to 20 for five years, and see if it goes well, then five years for 19. Eighteen is way too young. Only if the need is there should 18-year-olds be considered. If trucking companies quit their race to the bottom, the age could be 25. Under such ideal working conditions, people would flock to trucking careers, especially since long-haul will be reduced in favor of even more regional routes and piggy backing, thus allowing for more home time."
"If legal drinking age is 21, then driving a semi-truck down the road should be the same. It would be very dangerous for other truckers but also everyone else sharing the road. Eighteen-year-olds are not mature enough to drive an 80,000-pound truck down the road. I strongly disagree with this proposal."
---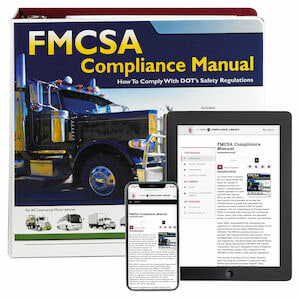 J. J. Keller's FMCSA Compliance Manual helps companies operating commercial motor vehicles (CMVs) comply with DOT regulations.
---
J. J. Keller's FREE Transportation SafetyClicks™ email newsletter brings quick-read safety and compliance news right to your email box.