FMCSA administrator anticipates HOS proposal 'in short order'
Posted June 21, 2019
The administrator of the Federal Motor Carrier Safety Administration (FMCSA) expects an announcement on the revised hours-of-service (HOS) rule soon but did not give an exact date during testimony to a Senate committee on Wednesday, June 19.
"I really do believe we are in the very final stages of that process, and I am hopeful that it will be in short order," said FMCSA Administrator Ray Martinez. "I hesitate to put a certain date on it."
The proposed rule continues to be reviewed by the White House Office of Management and Budget (OMB), where it was sent for review on March 28. OMB has a 90-day allowance to review the rule and can grant one 30-day extension before being published in the Federal Register.
FMCSA received more than 5,200 comments after issuing an advanced notice of proposed rulemaking in August of 2018. The anticipated release of the revised rules has been at the center of much speculation in the trucking industry.
An anticipated announcement of the proposed HOS rule was expected on June 7 but was later pushed back to the end of June.
Martinez revealed during the hearing that since April 1, 2018, less than 1 percent of nearly 300,000 driver inspections resulted in citations for not having a required electronic logging device (ELD) or grandfathered automatic onboard recording device (AOBRD). Additionally, HOS violations have decreased 52 percent over the last year, he said.
Despite the improved inspection rates for ELD/AOBRD use and HOS violations, the ELD rule highlighted some areas of the HOS rules that may need improving or adjusting, Martinez said.
"We look forward to receiving comments on our proposal and then moving forward to make the needed regulatory changes," he said.
The Senate called the hearing to examine the FAST Act, which will expire in 2020, and DOT priorities, as the House of Representatives debates DOT funding.
Other transportation news revealed at the hearing includes:
The FMCSA will be publishing a Federal Register notice explaining changes to the crash preventability demonstration program, since the program will be extended beyond its original expiration date of August 1, 2019.
The DOT Drug and Alcohol Clearinghouse will be starting on schedule on January 6, 2020.
The FMCSA wants to conduct an updated Large Crash Causation Study to better determine the cause of fatal truck crashes.
---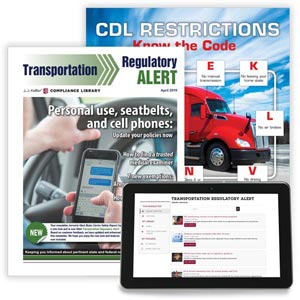 J. J. Keller's Transportation Regulatory Alert Newsletter keeps you current on federal and state compliance information that impacts your drivers, trucks, and bottom line.
---
J. J. Keller's FREE Transportation SafetyClicks™ email newsletter brings quick-read safety and compliance news right to your email box.