EPA issues hurricane season reminder, urges public to prepare
Posted June 12, 2019
EPA has issued its annual hurricane season reminder, calling on the public to prepare now for natural disasters to aid recovery efforts. The Agency notes that debris and household hazardous waste management is always challenging during natural disasters and has a great impact on public safety.
EPA responders in the field during the aftermath of the 2017 and 2018 hurricanes managed a tremendous amount of waste as part of the recovery efforts, including:
About 470,100 containers (drums, oil containers, propane tanks) recovered.
Approximately 2,900 vessels recovered or closed.
EPA says residents can help protect their communities, the environment, and personnel who respond to hurricanes by making sure items such as propane tanks and paint cans are secured prior to a hurricane.
The Agency also reminds facility operators that they have certain requirements that call for preventing, minimizing, and reporting chemical releases. Facility operators have an obligation to operate facilities safely, minimize releases that do occur, and report chemical releases in a timely manner.
EPA states that before hurricane force winds and associated storm surge flooding damage industrial processes, operators can take preventive action by safely shutting down processes, place hazardous chemicals in safe storage locations, or otherwise operate safely under appropriate emergency procedures. If a chemical release does occur, operators should notify appropriate authorities immediately so that a proper response can be carried out.
The Atlantic hurricane season officially began June 1 and ends November 30.
---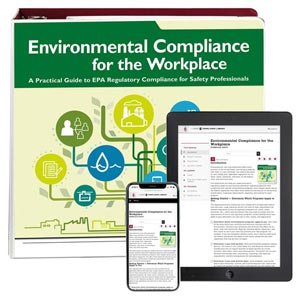 J. J. Keller's Environmental Compliance for the Workplace Manual addresses major environmental issues, including permitting, planning, and training.
---
J. J. Keller's FREE Workplace SafetyClicks™ email newsletter brings quick-read safety and compliance news right to your email box.