The domino effect of the SCOTUS Janus (public union) decision
Posted June 29, 2018
On June 27, the last day of the 2017-2018 term, in a 5-4 decision, the U.S. Supreme Court (SCOTUS) held that employees of public employers may no longer be required to pay union dues if they choose not to join the union. The ruling, which took effect immediately, overturned a 41-year old decision regarding the constitutionality of such dues or fees — sometimes known as agency or fair share fees. While this decision has a major instant impact on public employers, it could have repercussions for unions of many other employers, including private employers, down the line.
Unions argued that the fees should be paid by all employees who are covered by a collective bargaining agreement, even if some of the employees would rather not join the union. Otherwise, those employees would be reaping the benefit of the agreement without paying their fair share for such representation.
Employees who disagree with the political activities of a union generally don't want to financially support such entities. Since collective bargaining agreements for public employees involve working with the government, the union's activities are arguably political.
The domino effect of this ruling could, on a basic level, include the following:
The ruling prohibits public sector employers from collecting fees from non-union employee members. Because of this, the affected unions will lose some of their income.
Without this income, unions could have a harder time trying to grow their memberships.
Also without this income, their arguing and advocacy budgets will be more limited.
Without the advocacy, their voices may not be as loud in Congress.
With their voices quieted, they may not garner enough support for their causes.
Those causes may involve unions at private employers.
The labor movement in general might have to find alternative means of getting their agenda done or risk not having their agendas gain much traction.
Background
The case involved a public employee who was required to pay such fair share fees, but did not want to support the union. While the lower courts did not have the authority to overturn the standing from the 1977 SCOTUS ruling, SCOTUS did. It found that the requirement to pay the fees violated the First Amendment. Cases and other developments since the 1977 ruling eroded its support.
As of now, public employers must stop taking fair share fees from employees who choose not to join the union. How this all will actually play out over time remains to be seen.
This article was written by Darlene M. Clabault, SHRM-CP, PHR, CLMS, of J. J. Keller & Associates.
---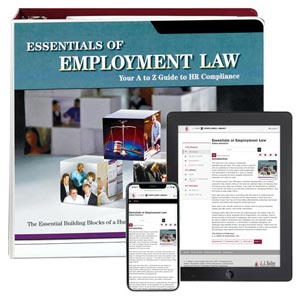 J. J. Keller's Essentials of Employment Law Manual covers more than 100 vital HR topics, including FMLA, ADA, HIPAA, FLSA, COBRA and more.
---
J. J. Keller's FREE HRClicks™ email newsletter brings quick-read human resources-related news right to your email inbox.