Memo further delays enforcement of provisions in Beryllium Standards
Posted June 27, 2018
A June 21, 2018, memorandum from Thomas Galassi, Director of OSHA's Directorate of Enforcement Programs, explains the most recent delays in enforcement for some of the provisions in the Beryllium Standards.
OSHA is enforcing the PELS
On January 9, 2017, OSHA published its final rule, Occupational Exposure to Beryllium. As discussed in a previous memorandum dated May 9, 2018, OSHA is currently enforcing the Permissible Exposure Limits (PEL) in the general industry, construction, and shipyard standards, at §1910.1024(c), §1926.1124(c) and §1915.1024(c), respectively. In addition, OSHA is also enforcing the general industry standard's ancillary provisions for exposure assessment §1910.1024(d), respiratory protection §1910.1024(g), medical surveillance §1910.1024(k), and medical removal §1910.1024(l).
Proposed rule to extend compliance dates
On June 1, 2018, OSHA published a proposed rule to extend certain compliance dates to December 12, 2018. The comment period for the rulemaking expires on July 2, 2018. OSHA says that it will continue to enforce the PELs in all three standards and enforce paragraphs (d), (g), (k) and (l) of the general industry standard while it completes the rulemaking proceeding. However, the Agency will not enforce any other provisions contained in §1910.1024 until August 9, 2018, without further notice. In addition, OSHA will not enforce any other provisions contained in §1926.1124 or §1915.1024 without further notice.
The memo also states that in the interim, OSHA intends to complete the outstanding rulemaking activity.
---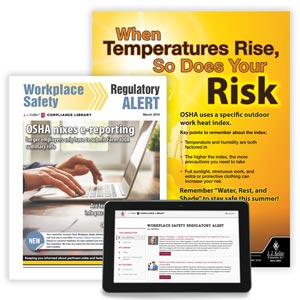 J. J. Keller's Workplace Safety Advisor newsletter delivers up-to-date workplace safety and compliance news every month.
---
J. J. Keller's FREE Workplace SafetyClicks™ email newsletter brings quick-read workplace safety and compliance news right to your email box.