HVUT filing starts July 1
Posted June 27, 2018
A new heavy vehicle use tax (HVUT) tax year is upon us. The 2018-2019 HVUT tax year officially starts on July 1, 2018, and runs through June 30, 2019.
Carriers registering vehicles with taxable gross weights of 55,000 pounds or more (including trucks, tractors, and buses) and using them on a public highway are subject to the HVUT. The HVUT applies to highway motor vehicles having a taxable gross weight of 55,000 pounds or more that operate on a public roadway, regardless of whether they operate interstate or intrastate.
Tax returns for the 2018-2019 tax year are due the last day of the month following the month of the vehicle's first taxable use in the reporting period. For example, if the first taxable use of the vehicles is on July 1, 2018, then filing and payments are due by August 31, 2018. A large majority of HVUT returns are processed in July/August for this reason.
Filers with 25 or more vehicles are required to file electronically; however, all taxpayers are encouraged to file electronically. There are benefits even if filing with fewer than 25 vehicles. Electronic filing helps reduce errors and filers can often print proof of tax payment within minutes after the IRS accepts the electronic return.
Proof of HVUT filing is required for a U.S.-based carrier to register its vehicles. Carriers based in Canada or Mexico and operating taxable vehicles into the United States are required to carry proof of HVUT filing. Drivers may be asked to provide proof of filing to a U.S. Customs and Border Protection officer.
---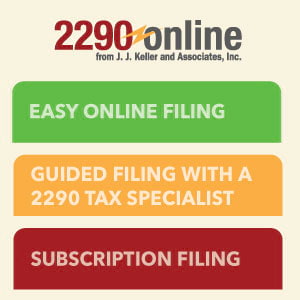 With 2290online from J. J. Keller, you can quickly enter and electronically file your heavy vehicle use taxes.
---
J. J. Keller's FREE Transportation SafetyClicks™ email newsletter brings quick-read safety and compliance news right to your email box.