Employers may join together to offer health coverage
Posted June 22, 2018
As the cost of health insurance continues to rise, a new regulation may provide some relief for smaller employers. The rule allows several employers to join together as an association, and that association could sponsor a health insurance plan (association health plan – AHP) that covers the employees of all association members.
Essentially, the association would be treated as the "employer" for purposes of offering an employer-sponsored health plan.
The changes
Under current law, health coverage offered through an employer association is generally regulated the same as insurance sold by health insurance issuers.
The new regulation removes those restrictions and revises the definition of "employer" (for purposes of an employer-sponsored plan) to clarify which employers may join together in an association.
The new rule does not affect previously existing AHPs, which were allowed under prior guidance. Such plans may continue to operate as before, or elect to follow the new requirements if they want to expand within a geographic area, regardless of industry, or to cover the self-employed. New plans may also form and elect to follow either the old guidance or the new rules.
The criteria
Forming an association may be more complicated than simply finding a few other employers in the area and purchasing insurance, but would at least become an option. The proposed regulation indicates that an association of employers must share a "commonality of interest" such as:
Being in the same trade, industry, line of business or profession; or
Having a principal place of business in the same state or metropolitan area (even if the metropolitan area covers more than one state, such as Kansas City).
In addition, an association of employers would need to meet the following requirements:
The group or association exists for the purpose, in whole or in part, of sponsoring a group health plan;
Each employer member has at least one employee who is a participant covered under the plan;
The association has a formal organizational structure with a governing body and has by-laws, or other similar indications of formality;
The functions and activities of the association, including the establishment and maintenance of the group health plan, are controlled by its employer members either directly or indirectly through the regular nomination and election of representatives;
The employer members have a commonality of interest; and
The association does not make health coverage available other than to employees, former employees and family members.
Consumer protections and healthcare anti-discrimination protections that apply to large businesses will also apply to AHPs organized under this rule.
The final rule was published in the June 12, 2018, Federal Register by the U.S. Department of Labor's Employee Benefits Security Administration (EBSA).
This article was written by Edwin Zalewski of J. J. Keller & Associates, Inc.
---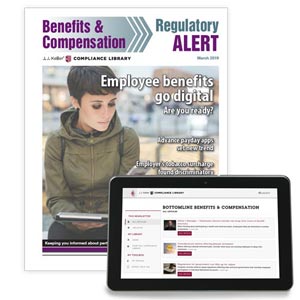 J. J. Keller's BottomLine Benefits & Compensation is an 8-page, monthly newsletter that addresses key issues relating to benefits and compensation programs.
---
J. J. Keller's FREE HRClicks™ email newsletter brings quick-read human resources-related news right to your email inbox.