Report shows 20 percent decline in electric power plant emissions since 2005
Posted June 15, 2017
A new report from Ceres suggests the nation's power plants have made great strides in reducing air pollutants. The report finds that CO2 emissions from the electric sector were 2.12 billion tons in 2015, a 20 percent decline since 2005. Further, preliminary data show another 5 percent decline in 2016, bringing the sector's emissions in line with 1990 levels.
The report, "Benchmarking Air Emissions of the 100 Largest Electric Power Producers in the United States," is the 13th report published by Ceres since 1997. Ceres says that for the first time since it began publishing the report, SO2 and NOx emissions were each below 2 million tons in 2016. However, the nonprofit sustainability organization cautions that there is still significant variability among power producers. Among the top 100 power producers, CO2 emissions could range from 0 to 2,245 pounds per megawatt hour. Also, companies with the most non-emitting generation, such as nuclear and renewables, generally had the lowest CO2 emission rates.
Ceres analyzed emissions of carbon dioxide (CO2), nitrogen oxides (NOx), sulfur dioxide (SO2), and mercury from the top 100 electric power plants. These plants account for 85 percent of power production for the entire country and 86 percent of the industry's air emissions. The report ranks each power company's emissions and emission rate for each air pollutant against the emissions and rates of other power companies.
Ceres also ranked the states by the amount of each pollutant released. The report says the ten states with the highest air emissions are: Texas, 248.2 million tons; Florida, 116.1 million tons; Pennsylvania, 96.4 million tons; Indiana, 95.7 million tons; Ohio, 89.3 million tons; Illinois, 88.6 million tons; Kentucky, 81.1 million tons; West Virginia, 71.0 million tons; Michigan, 70.6 million tons; and Missouri, 70.5 million tons.
The report is based on 2015 generation and emissions data from the U.S. Energy Information Administration and EPA.
---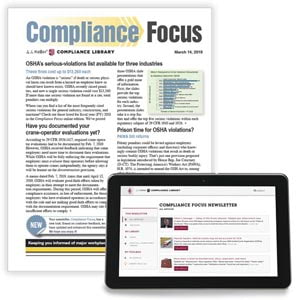 J. J. Keller's Compliance Focus helps you stay on top of critical regulatory developments from: DOT, OSHA, EPA, DOL, MSHA, EEOC, DHS and other agencies.
---
J. J. Keller's FREE Workplace SafetyClicks™ email newsletter brings quick-read workplace safety and compliance news right to your email box.