OSHA announces proposed rule for beryllium exposure
Posted June 26, 2017
On June 23, OSHA announced a proposed rule to modify the Agency's recent standards for beryllium for the construction and shipyard sectors. OSHA says representatives of the shipyard and construction industries, as well as members of Congress, complained that they had not had a meaningful opportunity to comment on how the rule would apply to their industries when it was developed in 2015-2016.
On January 9, 2017, OSHA issued a final rule that established new protections for workers who are exposed to beryllium in general industry, construction, and shipyards. Beryllium is a lightweight metal used primarily in specialty alloys and beryllium oxide ceramics. It is also present as a trace material in metal slags.
The proposed rule only applies to the two listed sectors: shipyards and construction. The beryllium standards for general industry are not affected by the proposal.
No enforcement without further notice
OSHA also announced it will not enforce the January 9, 2017, construction and shipyard standards without further notice while determining whether to amend the rule.
Proposed rule maintains the permissible exposure limits, revises ancillary provisions
According to OSHA, the proposal for shipyards and construction would maintain the requirements for exposure limits (permissible exposure limit of 0.2 μg/m3 and short-term exposure limit of 2.0 μg/m3). The Agency says this will protect workers from a serious beryllium-related lung disease known as chronic beryllium disease.
The proposed rule revises the application of ancillary provisions, such as housekeeping and personal protective equipment, in the January 2017 final standards. OSHA says it has evidence that exposure in these industries is limited to a few operations and has information suggesting that enforcing these provisions broadly may not improve worker protection and be redundant with overlapping protections in other standards.
Accordingly, OSHA is seeking comment on, among other things, whether existing standards covering abrasive blasting in construction, abrasive blasting in shipyards, and welding in shipyards provide adequate protection for workers engaged in these operations.
The proposed rule will be published in the Federal Register on June 27, 2017. The comment period will be open for 60 days following publication.
---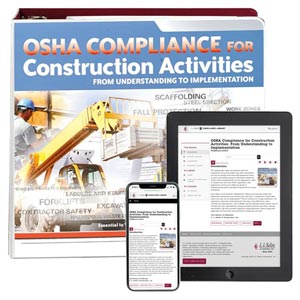 J. J. Keller's OSHA Compliance for Construction Activities Manual explains complex Part 1926 regs in easy-to-understand language.
---
J. J. Keller's FREE Workplace SafetyClicks™ email newsletter brings quick-read workplace safety and compliance news right to your email box.