New OSHA pub presents best practices for communication tower work
Posted June 6, 2017
A new OSHA publication titled "Communication Tower Best Practices," addresses the many risks that confront communication tower workers. Risks to employees performing construction and maintenance activities on these high structures include hazards associated with structural collapses and improper rigging and hoisting practices. Workers are also at risk from fall hazards and "struck-by" hazards.
According to OSHA, one of the main challenges to ensuring employee safety comes from the business structure of the communication tower industry. Towers are often owned by separate corporations, and carriers typically contract with outside vendors for the installation and maintenance of their equipment. The outside vendors, in turn, may hire contractors, and these contractors may also hire sub-contractors. The complicated business relationship can make it difficult to keep track of when and how work is being performed, and who is responsible for employee safety.
In addition, work on communication towers is physically demanding and requires employees to spend long periods of time away from home; thus, job turnover tends to be high. OSHA says that ensuring employee safety requires accountability and diligence throughout the contracting process, "all the way from the carrier to the individual employee performing the work."
In the publication, OSHA organizes important information on safety and health programs by levels in the contracting chain: tower climbers and ground crew employees; carrier and tower owners; "turfing" vendors; and tower construction and maintenance contractors.
Find the document on OSHA's website.
---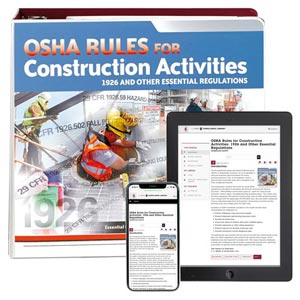 J. J. Keller's OSHA Rules for Construction Activities is an easy-to-use source for up-to-date word-for-word Part 1926 and referenced 1910 regulations.
---
J. J. Keller's FREE Workplace SafetyClicks™ email newsletter brings quick-read workplace safety and compliance news right to your email box.