DOL publishes proposal to rescind 'Persuader Rule'
Posted June 12, 2017
The U.S. Department of Labor published a Notice of Proposed Rulemaking (NPRM) to rescind a rule that would have required employers and labor-management consultants to report advice given during union organizing campaigns. Commonly referred to as the "Persuader Rule," the regulation was published in March 2016.
The rule saw resistance from employers and attorneys who often provide labor consulting services. They argued that the rule violated client confidentiality and attorney-client privilege. In November 2016, the U.S. District Court for the Northern District of Texas issued a nationwide permanent injunction against the rule.
Although the rule technically went into effect, its implementation was enjoined before its application became mandatory, and no reports were filed or are due under it.
If the rule is rescinded as proposed, the reporting requirements would revert to the requirements as they existed before the rule — employers would file a report only if they hire a consultant to deal directly with employees regarding unionization.
The NPRM was published in the Federal Register on June 12 and is open for public comment for up to 60 days after publication. The public may submit comments, identified by RIN 1245-AA07, through the Federal eRulemaking Portal.
---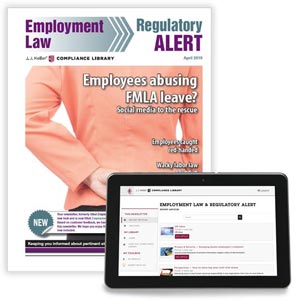 J. J. Keller's Employment Law Today newsletter explains why you need to care, what you need to do and how your business could be affected by HR industry news.
---
J. J. Keller's FREE HRClicks™ email newsletter brings quick-read human resources-related news right to your email inbox.