FMCSA extends COVID-19 waivers for another three months
Posted May 25, 2021
The Federal Motor Carrier Safety Administration (FMCSA) provided a three-month extension to several emergency waivers enacted in response to the COVID-19 pandemic.
The Emergency Declaration and license and medical-card waivers were due to expire on May 31, 2021, after several extensions throughout 2020. The continuing impact of COVID-19 on supply chains and state licensing agencies led the agency to extend the waivers yet again.
Qualifying truck and bus drivers now have through August 31, 2021, to operating under the terms of the new waivers. However, the FMCSA could terminate or modify the waivers before then.
Emergency Declaration
The Emergency Declaration applies to those motor carriers and their drivers providing direct assistance to the pandemic emergency.
The exemption is limited to transportation of:
Livestock and livestock feed;
Pandemic-related medical supplies and equipment, vaccines, and products related to vaccine administration and distribution;
Masks, gloves, hand sanitizer, soap, disinfectants, and similar supplies and equipment; and
Food, paper products, and other groceries for emergency restocking of distribution centers or stores.
Direct assistance does not include nonemergency transportation of qualifying commodities or routine commercial deliveries, including mixed loads with a nominal quantity of qualifying emergency relief added to obtain the benefits of this emergency declaration.
Qualifying motor carriers and drivers are exempt from 49 CFR Parts 390-399, except as noted in the emergency declaration that is available at fmcsa.dot.gov/COVID-19.
License and medical-card waivers
Drivers having trouble updating their licenses or medical certificates due to the pandemic now have more time to renew those credentials.
The most recent waiver for commercial driver's licenses (CDLs), commercial learner's permits (CLPs), and medical certificates is effective June 1, 2021, and will remain in place until August 31, 2021. The FMCSA says it will review these waivers on July 1 to verify they are still needed.
Under the licensing waiver, states have the option to extend the validity of CDLs and CLPs that expired on or after March 1, 2020, until August 31, 2021.
For CLP holders, the FMCSA has also waived:
The requirement to retake the knowledge test if more than a year has passed since the permit was issued,
The 14-day waiting period for taking the CDL skills test,
The requirement that a CLP holder be accompanied by a CDL holder physically present in the front seat (he or she may be elsewhere in the cab), and
Restrictions on states performing skills tests on out-of-state applicants and using certain third-party skills-test examiners who are not fully trained.
The licensing waiver is not binding on the states, so drivers should verify that their state is honoring it.
Under the revised medical-card waiver, a driver can qualify for an extension on an expiring medical card if:
His or her existing medical card expired on or after March 1, 2021;
The existing medical card was issued for at least 90 days;
The driver has not been diagnosed with a disqualifying medical condition since the previous medical exam; and
The driver carries a copy of his or her expired medical certificate and any required variance.
Reporting crashes
If any of your drivers are taking advantage of the licensing or medical-card waivers, you must notify the FMCSA of any DOT-recordable crashes involving those drivers.
This article was written by Kathy Close of J. J. Keller & Associates, Inc.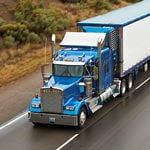 Looking for more on transportation safety?
Get the information and products you need to stay on top of industry changes and comply with regs.