OSHA and CDC issue joint coronavirus guidance for manufacturers
Posted May 15, 2020
The Occupational Safety and Health Administration (OSHA) and the Centers for Disease Control and Prevention (CDC) issued a joint guidance for manufacturing facilities on protecting employees and reducing the spread of COVID-19.
Facilities developing plans for continuing operations in the setting of COVID-19 occurring among workers or in the surrounding community should:
Work directly with appropriate state and local public health officials and occupational safety and health professionals,
Incorporate relevant aspects of CDC guidance, and
Incorporate guidance from other authoritative sources or regulatory bodies as needed.
The guidance notes that a number of factors impact the risk of transmission, including distance and duration of contact. In simple terms, the more time people spend in close proximity, the more likely an infected person could transmit the virus. As distance increases and duration of contact decreases, the risk of transmission decreases.
Factors that affect workers' risk for exposure include:
Distance – employees often work close to one another, especially on assembly or processing lines. Workers may also be near each other when clocking in or out, during breaks, or in locker/changing rooms.
Duration of contact – employees often have contact with coworkers for an entire shift. Continued contact with potentially infectious individuals increases the risk of transmission.
Type of contact – workers may be exposed to the virus through respiratory droplets. It is possible that exposure could occur from contact with contaminated surfaces or objects such as tools, workstations, or break room tables.
Other factors that may increase risk among workers include carpooling, taking public transportation, or socializing with coworkers outside the workplace.
The guidance provides recommended engineering and administrative controls, including cleaning and disinfection. It also discusses educating workers and supervisors on how to reduce the spread of COVID-19, screening workers, managing sick workers, and addressing return to work.
This article was written by Ed Zalewski of J. J. Keller & Associates, Inc.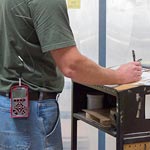 Looking for more on workplace safety?
Get the information and products you need to stay on top of industry changes and comply with regs.