New guidance for cleaning and disinfecting workplaces
Posted May 1, 2020
The Environmental Protection Agency (EPA) and the Centers for Disease Control and Prevention (CDC) released updated guidance with step-by-step instructions to help employers and families properly clean and disinfect spaces. To prepare for reopening, the guidance recommends developing and implementing a plan, then revising it as needed.
Cleaning and disinfecting surfaces is a two-step process. First, clean the surface or object with soap and water. Then, disinfect using an EPA-approved disinfectant.
EPA has compiled a list of disinfectant products including sprays, concentrates, and wipes that can be used against COVID-19. Always follow the product label instructions and safety information, including leaving the product on the surface long enough to kill germs. If products on the EPA list are not available, use 1/3 cup of bleach added to 1 gallon of water, or 70% alcohol solutions to disinfect.
Some tips from the guidance include:
Outdoor areas generally require normal routine cleaning and do not require disinfection.
If your workplace or business has been unoccupied for 7 days or more, it will only need your normal routine cleaning to reopen the area. The virus that causes COVID-19 has not been shown to survive on surfaces longer than this time.
Some surfaces only need cleaning with soap and water. For example, surfaces and objects that are not frequently touched should be cleaned but do not require additional disinfection.
Surfaces frequently touched by multiple people such as door handles, desks, phones, light switches, and faucets should be cleaned and disinfected at least daily. More frequent cleaning and disinfection may be required based on use. For example, shopping carts and point of sale keypads should be cleaned and disinfected before each use.
Consider what items can be removed to reduce frequent handling or contact from multiple people. Soft and porous materials, such as area rugs and seating, may be removed or stored to reduce the challenges with cleaning and disinfecting them.
This guidance does not replace other measures that still need to be taken to reduce the risk of exposure to COVID-19. It is important to continue to practice social distancing, wear cloth face coverings, and wash your hands frequently.
To view the guidance, click here.
This article was written by Ed Zalewski of J. J. Keller & Associates, Inc.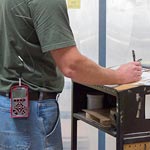 Looking for more on workplace safety?
Get the information and products you need to stay on top of industry changes and comply with regs.