House passes Equality Act
Posted May 27, 2019
On May 17, the House passed the Equality Act (HR 5) by a 236-173 vote. The bill defines and includes sexual orientation, and gender identity among the prohibited categories of discrimination or segregation. It would prohibit discrimination based on these bases in employment as well as areas including public accommodations and facilities, education, federal funding, housing, credit, and the jury system.
While, in the employment domain, the federal Equal Employment Opportunity Commission (EEOC) argues that the Title VII of the Civil Rights Act's prohibition against discrimination on the basis of sex includes sexual orientation and gender identity, not all courts agree.
In Macy v. Department of Justice (April 20, 2012), for example, the court ruled that transgender discrimination is sex discrimination in violation of Title VII because it involves non-conformance with gender norms and stereotypes or based on a plain interpretation of the statutory language prohibiting discrimination because of sex. In Lusardi v. Dep't of the Army, (March 27, 2015), the court found that Title VII is violated where an employer denies an employee equal access to a common restroom corresponding to the employee's gender identity, or harasses an employee because of a gender transition, such as by intentionally and persistently failing to use the name and gender pronoun corresponding to the employee's gender identity as communicated to management and employees.
In Bostock v. Clayton County (May 10, 2018), on the other hand, the court ruled that termination for homosexuality is not specifically prohibited by Title VII. The case involved an employee who was terminated after his employer learned that he was gay by accused him of mismanaging public money and arguing that proffered reason was pretext.
The Equality Act is in part a response to these inconsistencies. It explicitly indicates that, in addition to sexual orientation and gender identity, pregnancy, childbirth, or a related medical condition of an individual, as well as because of sex-based stereotypes are all a form of sex discrimination. This would also protect LGBTQ individuals and supersede state law.
The bill relates to a hotly-debated issue. Critics argue the bill threatens freedom of speech and religion, while supporters argue that, in many states, LGBTQ people can still be legally fired, evicted, or denied services based on their sexual orientation or gender identity.
In addition to providing protections related to sex, the measure could also somewhat challenge religious conscience provisions, which allow entities such as health care providers to refuse to perform, accommodate, or assist with certain health care services to individuals on religious or moral grounds. Regulations published on May 21 are designed to ensure enforcement of such conscience and anti‐discrimination laws. They become effective in July.
The current administration's policies have also included broadening religious and moral exemptions for employers who do not want to cover birth control.
The Equality Act, which had 240 cosponsors, was introduced March 13, and now goes to the Senate where it has been referred to the Committee on the Judiciary and will likely have an uphill battle. On a related note, the U.S. Supreme Court is expected to hear three employment discrimination cases next term, one of which is Bostock.
This article was written by Darlene M. Clabault, SHRM-CP, PHR, CLMS, of J. J. Keller & Associates, Inc.
---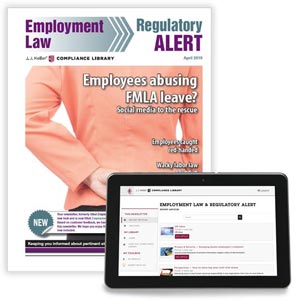 J. J. Keller's Employment Law & Regulatory Alert Newsletter provides you with current HR news and employment law information in one convenient source.
---
J. J. Keller's FREE HR SafetyClicks™ email newsletter brings quick-read safety and compliance news right to your email box.
Sign up to receive HR SafetyClicks™.