EPA seeks comment on regulating perchlorate in drinking water
Posted May 27, 2019
EPA has released a notice of proposed rulemaking seeking public input on the regulation of perchlorate in public drinking water systems. The Agency says it is especially interested in comments regarding the perchlorate monitoring and reporting requirements for public water systems and a list of treatment technologies that would enable water systems to comply with the Maximum Contaminant Level (MCL), including affordable compliance technologies for small systems serving 10,000 persons or less.
EPA also requests comment on its methodology for deriving the Maximum Contaminant Level Goal (MCLG), the underlying assumptions and analysis of its cost and benefit estimates, and other specific items listed in the proposed rule.
In 2011, EPA determined that perchlorate meets the Safe Drinking Water Act (SDWA) criteria for regulation as a contaminant. The Agency found that perchlorate may have an adverse effect on human health and is known to occur in public drinking water systems with a frequency and at levels that present a public health concern.
Since that time, EPA has reviewed data on a range of issues related to perchlorate in drinking water including its health effects, occurrence, treatment technologies, analytical methods, and the costs and benefits of potential standards.
Perchlorate is commonly used in solid rocket propellants, munitions, fireworks, airbag initiators for vehicles, matches, and signal flares. Perchlorate may occur naturally, particularly in arid regions, and is found as an impurity in hypochlorite solutions used for drinking water treatment and nitrate salts used to produce nitrate fertilizers, explosives, and other products.
Comment will be accepted on the proposal for 60 days after publication in the Federal Register; search for Docket No. EPA-HQ-OW-2018-0780 at regulations.gov.
---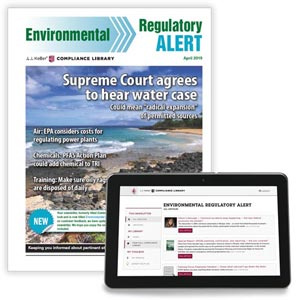 J. J. Keller's Environmental Regulatory Alert Newsletter keeps you current with ever-changing regulatory activity.
---
J. J. Keller's FREE HR SafetyClicks™ email newsletter brings quick-read safety and compliance news right to your email box.
Sign up to receive HR SafetyClicks™.