EPA reviews herbicide glyphosate, says no risk to public health
Posted May 6, 2019
As part of its review of the current registered uses of glyphosate, a widely used herbicide, EPA says it continues to find that there are no risks to public health when it is used in accordance with its current label and that it is not a carcinogen.
Glyphosate was first registered as a pesticide in 1974, and EPA initiated registration review for glyphosate in 2009. In 2010, the Agency required the pesticide registrants to conduct additional studies to support updated human health and ecological risk assessments. In 2015, EPA reexamined the carcinogenic potential of glyphosate, and in 2017 the Agency published the draft glyphosate human health and ecological risk assessments for public comment.
In April 2019, after reviewing public comments on the risk assessments, EPA released the Glyphosate Proposed Interim Decision for public comment. In this decision, EPA is proposing management measures on pesticide release height, wind speed, and droplet size to address pesticide spray drift. EPA also is proposing measures to prevent or reduce weed-resistance, which includes giving farmers better information on mode of action, the need for scouting, and how to report potential weed resistance issues, to maintain glyphosate as a tool for growers.
Once the Federal Register notice publishes, comments can be submitted at the Federal eRulemaking Portal in Docket No. EPA-HQ-OPP-2009-0361 for 60 days. EPA says that after reviewing public comments, it will release a decision in late 2019 with enforceable restrictions.
Glyphosate is an herbicide that controls broadleaf weeds and grasses, and it is used on more than 100 food crops, including glyphosate-resistant corn, soybean, cotton, canola, and sugar beet. Non-agricultural uses include residential areas, aquatic areas, forests, rights of way, ornamentals, and turf.
---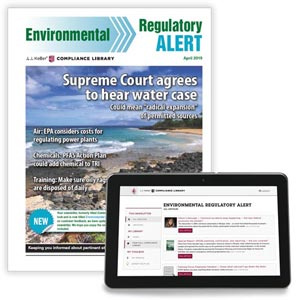 J. J. Keller's Environmental Regulatory Alert Newsletter helps you stay on top of the latest environmental enforcement issues.
---
J. J. Keller's FREE Workplace SafetyClicks™ email newsletter brings quick-read safety and compliance news right to your email box.
Sign up to receive Workplace SafetyClicks™.