Don't get smoked out: Marijuana use and foreign nationals
Posted May 3, 2019
With all the hoopla surrounding marijuana laws, the federal Controlled Substance Act, which continues to list marijuana as illegal, still has some effect. According to a policy alert published on April 19 by the U.S. Citizenship and Immigration Service (USCIS), it can still bar someone – including employees – from establishing good moral character for purposes of naturalization. This is true even where its use would not be an offense under state law.
Indeed, currently over 40 states and the District of Columbia have enacted laws to decriminalize the cultivation, possession, distribution, and use of both medical and non-medical (recreational) marijuana in their respective jurisdictions. Federal law, however, classifies marijuana as a "Schedule I" controlled substance whose manufacture, cultivation, possession, or distribution may lead to criminal and immigration consequences.
Despite this, the current U.S. attorney general indicated during his Senate confirmation hearing not to go after parties that comply with state laws, but said he is not a proponent of legalizing it on a federal level. This has created not only a patchwork of state laws, but also conflict between the federal and those state laws. For naturalization purposes, however, the federal law is in play.
One of the general requirements for naturalization is good moral character. This means character which measures up to the standards of average citizens of the community in which the applicant resides. In general, an applicant must show that he or she has been and continues to be a person of good moral character during the statutory period prior to filing and up to the time of the Oath of Allegiance.
Violation of any law on controlled substances, except for simple possession of 30g or less of marijuana can be a conditional bar to naturalization. Such bars are triggered by specific acts, offenses, activities, circumstances, or convictions within the statutory period for naturalization, including the period prior to filing and up to the time of the Oath of Allegiance. An offense that does not fall within a bar to good moral character may nonetheless affect an applicant's ability to establish good moral character.
If you have employees who are seeking naturalization and live or work in a state that has legalized marijuana use, you might want to share this information with them, since neither you nor they want to put more barriers in the way of naturalization.
This article was written by Darlene M. Clabault, SHRM-CP, PHR, CLMS, of J. J. Keller & Associates, Inc.
---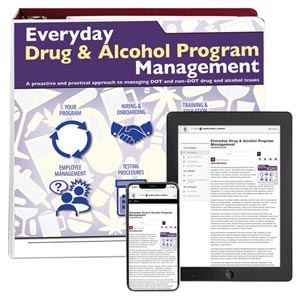 J. J. Keller's Everyday Drug & Alcohol Program Management Manual helps you manage a workplace and/or DOT drug and alcohol test, while complying with state and federal requirements.
---
J. J. Keller's FREE HR SafetyClicks™ email newsletter brings quick-read safety and compliance news right to your email box.
Sign up to receive HR SafetyClicks™.