Unionization of fast-food establishment is a first
Posted May 9, 2018
In an 18-4 vote, and after a two-year effort, the country's first fast-food establishment has been unionized. All full-time and regular part-time crew members employed at the establishment's one facility in Portland, Oregon are now represented through Industrial Workers of the World by Burgerville Worker's Union (BVWU). The National Labor Relations Board certified the results on May 1, 2018.
At the time of the vote, no decision was made regarding whether team managers were to be included in, or excluded from, the bargaining unit. This was left to be determined, if necessary, after the election.
The employee demands included five dollar an hour raises, predictable and fair scheduling, safer working conditions, health care, maternity and paternity leave, transportation subsidies, and an end to the company's use of E-verify. The employees claimed that the use of E-verify made life more challenging for undocumented workers. The employees also discussed a desire to put out a tip jar. Most of the company's 1,500 total workers earn slightly above the state minimum wage, which stands at $11.25 per hour.
In its unionizing efforts, the union also engaged the workers in a walkout as well as a boycott. Some social media posts support the employee union while others indicate that they will no longer do business with the enterprise.
The company indicated it will bargain fairly with and support the employees.
Workers at another location will be voting on May 12th and 13th to form the second federally recognized bargaining unit in the union.
While this could be the beginning of a trend for establishments that have not historically been thought of as unionized, much could depend upon the impact the union has on the facilities. According to the U.S. Department of Labor, about 3.6 million Americans work in the food industry, including fast-food. According to the National Restaurant Association, about 14.7 million Americans are restaurant employees.
This article was written by Darlene M. Clabault, SHRM-CP, PRH, CLMS, of J.J. Keller & Associates, Inc.
---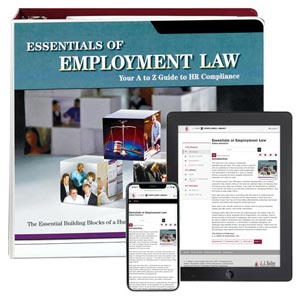 J. J. Keller's Essentials of Employment Law Manual covers more than 100 vital HR topics, including FMLA, ADA, HIPAA, FLSA, COBRA and more.
---
J. J. Keller's FREE HRClicks™ email newsletter brings quick-read human resources-related news right to your email inbox.