State-Plan States respond to OSHA's recent mandate on e-reporting
Posted May 3, 2018
A tweet issued by the Washington Department of Labor & Industries indicated the state would not go along with OSHA's recent call for employers in State-Plan States to submit their injury and illness data electronically to OSHA. The notice came in response to an April 30 OSHA news release stating that all employers, even those in State-Plan States that had not adopted the electronic reporting rule, must submit their 300A Summary data to OSHA.
Along with Washington, five other states have not yet adopted their own version of the rule. J. J. Keller reached out to these states for their response to OSHA's announcement.
Maryland reports that as of May 2, the state will not require employers to submit 300-A data electronically to OSHA. This could change if Maryland adopts a rule to require the reporting.
Minnesota said it planned to adopt the rule in May; therefore, employers in the state should comply with federal OSHA's directive.
South Carolina said it plans to adopt the rule by May 25, but for now, the state is "encouraging" employers to submit the data to OSHA. If the rule is adopted as expected, employers will only have a short time to meet the July 1st reporting deadline.
Wyoming published a notice to employers saying that "The electronic reporting requirement does not apply to Wyoming OSHA covered employers, despite an April 30, 2018, OSHA news release stating all employers across the country are subject to the rule."
California posted directions to employers stating, "even though California has not yet adopted its own state rule, employers are advised to comply with federal OSHA's directive to provide Form 300A data covering calendar year 2017."
OSHA's 2016 final rule to Improve Tracking of Workplace Injuries and Illness contained a requirement for employers with 250 or more employees, or those with 20-249 employees in certain high-hazard industries, to submit their occupational injury and illness information electronically to OSHA. States that run their own workplace safety and health programs, known as State-Plan States, were given six months to adopt the final rule, although the rulemaking process in many states can take much longer.
The first electronic submission of injury and illness records occurred last year, with a reporting deadline of December 31, 2017. OSHA only received about half of the reports it expected from employers.
The reporting deadline for submitting 2017 data is July 1, 2018.
---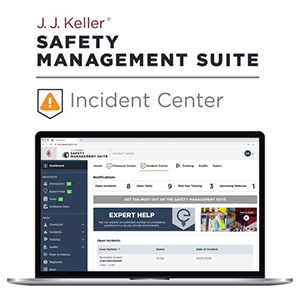 J. J. Keller's Incident Center helps you simplify your OSHA recordkeeping and analyze, report, manage, and prevent workplace incidents.
---
J. J. Keller's FREE Workplace SafetyClicks™ email newsletter brings quick-read workplace safety and compliance news right to your email box.