PHMSA seeks input for 2020 ERG
Posted May 23, 2018
The Pipeline and Hazardous Material Safety Administration (PHMSA) has published a request for information for the 2020 Emergency Response Guidebook (2020 ERG). PHMSA is requesting comments and input on ways to improve the ERG as they develop the 2020 ERG.
To assist in the gathering of information, PHMSA solicits input from ERG users on experiences using, and concerns with, the 2012 and 2016 editions. They are interested in any comments stakeholders and users wish to provide, but are particularly looking for answers to the following questions:
How can PHMSA make the ERG more user-friendly for first responders during the initial response phase of a hazardous materials transportation incident? Please provide examples.
Does the ERG effectively emphasize the most useful information for the initial response phase?
Have you encountered conflicting or ambiguous guidance messages when using the ERG and other sources of technical information?
Are there ways to improve the White Pages?
In the Yellow or Blue Pages, have you found any identification number and/or material name that seems to be assigned to an incorrect Guide number? If so, please note the identification number, material name, and the Guide number, and suggest a new Guide number with your reasons why.
Do the Orange Guide Pages contain recommendations and responses that are appropriate to the material they are assigned to? If not, please explain and recommend a correction.
How could PHMSA change/improve the introduction and description of the Green Pages, or any of the tables?
When calling any of the Emergency Response Telephone Numbers listed in the ERG, have you experienced a busy telephone line, disconnection, or no response? If so, please describe.
What format(s) of the ERG do you use (hardcopy, electronic, online, mobile applications, etc.), and why?
How often do you use the ERG in a dangerous goods transportation emergency?
PHMSA has established an e-mail address for interested persons to submit their input. Comments should be submitted to: ERGComments@dot.gov.
This article was written by Thomas Ziebell of J. J. Keller & Associates, Inc.
---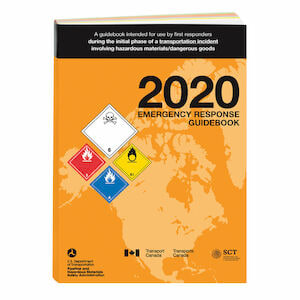 J. J. Keller's Emergency Response Guidebook (ERG) helps satisfy DOT's requirement that hazmat shipments be accompanied by emergency response info.
---
J. J. Keller's FREE Transportation SafetyClicks™ email newsletter brings quick-read safety and compliance news right to your email box.