NLRB looking at rulemaking to set joint employer standard
Posted May 11, 2018
The National Labor Relations Board (NLRB) is considering using rulemaking to set the standard for joint employer status under the National Labor Relations Act (NLRA).
The proposal was announced May 9 in the 2018 spring regulatory agenda, which outlines short- and long-term regulatory plans for federal agencies.
The joint employer standard under the NLRA has been in flux for several months. At issue is whether an employer with indirect control over employees is responsible for complying with the act.
A 2015 board decision held that an organization is a joint employer if it exerts indirect control over an employee. The board reversed this decision in December 2017, but that ruling was vacated in February because of a conflict of interest of a board member.
The definition of joint employer then reverted to the broader 2015 standard.
While the NLRB has said it has begun the internal process for considering rulemaking to clarify the standard, no estimated date has been given for the proposed rule's release.
Before the proposed rule is published in the Federal Register, it must be approved by a majority of the five-member board. After board approval, a Notice of Proposed Rulemaking would be issued.
A final rule would be issued after comments on the proposal are received and considered. The process could take a year or more.
This article was written by Terri Dougherty, SHRM-CP, PHR, of J. J. Keller & Associates, Inc.
---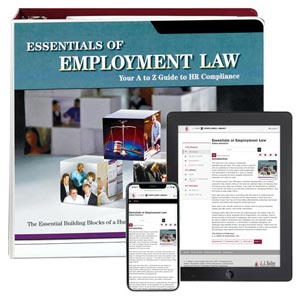 J. J. Keller's Essentials of Employment Law Manual covers more than 100 vital HR topics, including FMLA, ADA, HIPAA, FLSA, COBRA and more.
---
J. J. Keller's FREE HRClicks™ email newsletter brings quick-read human resources-related news right to your email inbox.