EPA wrapping up evaluation on methylene chloride
Posted May 15, 2018
Under the Lautenberg Chemical Safety for the 21st Century Act, which amended the Toxic Substances Control Act (TSCA), EPA is required to perform risk evaluations on the uses of ten specific chemicals. As EPA nears the completion of Problem Formulations for the ten chemicals, it has released a timeline of its work on methylene chloride, a toxic solvent found in certain paint thinners, coating removals, metal cleaners, and degreasers. Between 2000 and 2017, the chemical has been linked to more than 17 worker deaths, most from using methylene chloride during bathtub refinishing.
EPA's timeline
In 2014, EPA addressed the paint stripping uses of methylene chloride in its risk assessment.
In January 2017, EPA proposed a rule prohibiting the consumer and commercial paint stripping uses for the chemical.
In June 2017, EPA announced that it would not re-evaluate the paint stripping uses of methylene chloride.
Short-term exposures to methylene chloride to workers and even bystanders can result in harm to the central nervous system. These effects can include dizziness, incapacitation, and, in certain cases, death. Long-term occupational exposures to the chemical can include liver toxicity, liver cancer, and lung cancer.
Going forward, EPA said that it plans to:
Finalize a methylene chloride rulemaking;
Rely on its previous risk assessments; and
Work to send the finalized rulemaking to OMB.
EPA also says it is "working diligently to implement" the TSCA amendments to "get the most modern and safe chemicals to market, and to ensure the safety of existing chemicals."
Although EPA is not acting to prohibit the manufacture or sale of methylene chloride, environmental groups are calling on retail stores to voluntarily pull products containing the chemicals from their shelves.
---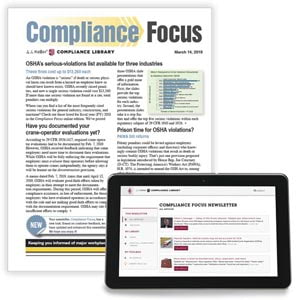 J. J. Keller's Compliance Focus helps you stay on top of critical regulatory developments from: DOT, OSHA, EPA, DOL, MSHA, EEOC, DHS and other agencies.
---
J. J. Keller's FREE Workplace SafetyClicks™ email newsletter brings quick-read workplace safety and compliance news right to your email box.