Booklet tells you what to expect following a federal OSHA inspection
Posted May 8, 2018
OSHA updated its booklet Employer Rights and Responsibilities Following a Federal OSHA Inspection. The hefty publication describes the steps employers should take after receiving a citation and notification of a penalty, and can serve as a discussion guide during the closing conference with the OSHA compliance safety and health officer (CSHO).
For each apparent violation found during the inspection, employers can expect the CSHO to discuss the following:
The nature of the violation;
Possible abatement measures the employer may take to correct the violation;
Possible abatement dates the employer may be required to meet; and
Any penalties that the area director issues.
OSHA points out that the compliance officer is a highly trained professional who can help employers to recognize and evaluate hazards and suggest appropriate methods of correcting violations. Employers should work to correct hazardous conditions as soon as possible.
Other topics presented in the booklet include:
Posting requirements,
Employer options,
The informal conference and settlement,
The different types of violations,
How to comply,
How to contest citations, including the contest process,
How to file a petition for modification of abatement,
Employees' rights to contest a petition for modification of abatement, and
Follow-up inspections and failure to abate.
The booklet also discusses employer responsibilities. Employers must provide a workplace that is free from recognized hazards and must comply with all of OSHA's safety and health standards. In addition, employers must:
Display the official OSHA Job Safety and Health — It's the Law poster.
Inform workers about chemical hazards through training, labels, alarms, color-coded systems, chemicals information sheets, etc.
Provide safety training to workers in a language and vocabulary they can understand.
Keep accurate records of work-related injuries and illnesses.
Perform required tests in the workplace, such as air sampling.
Provide required personal protecting equipment at no cost to workers.
Provide hearing exams or other medical tests required by OSHA standards.
Post OSHA citations and injury and illness data where workers can see them.
Notify OSHA within 8 hours of a workplace fatality or within 24 hours of any work-related inpatient hospitalization, amputation, or loss of an eye.
Not retaliate against workers for exercising their rights under the law, including the right to report a work-related injury or illness.
---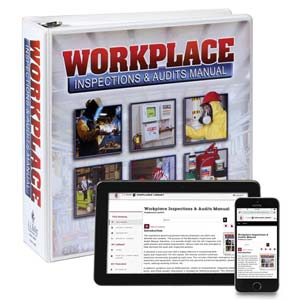 J. J. Keller's Workplace Inspections & Audits Manual gives the information you need to find and correct potential OSHA violations.
---
J. J. Keller's FREE Workplace SafetyClicks™ email newsletter brings quick-read workplace safety and compliance news right to your email box.