FMLA reinstatement provisions do not include light-duty work, but timing is critical
Posted May 11, 2017
You have an employee, Sean, out on leave under the Family and Medical Leave Act (FMLA). Everything seems fine, until Sean exhausts his FMLA but still cannot return to his job because of his condition. He does not provide a fitness-for-duty certificate at the end of FMLA leave; in fact, his doctor says he can't return to his job for a few more weeks.
Sean requests to do light-duty work. You, however, don't want Sean to return too early and risk reinjuring himself. Due to Sean's rather physical job, you deny the light-duty request and he takes a few more weeks off (non-FMLA leave).
During Sean's extended leave, he travels to a theme park and a tropical island. He posts pictures on Facebook, where he is friends with some coworkers.
After a few weeks, Sean returns to work. You bring him into a meeting where he gives you a fitness-for-duty certification. You show him the Facebook photos and tell him that the company believes that Sean had been well enough to return to work at an earlier point. Because of this, Sean is suspended, pending an investigation. Several days later, Sean is fired.
Sean sues, arguing that you not only interfered with his FMLA rights, you retaliated against him because he exercised those rights. According to Sean, you should have allowed him to return to work with his limitations (i.e., light duty), but you did not reinstate him. You argue that Sean forfeited his FMLA right to reinstatement when he took extended leave, and that he failed to provide a fitness-for-duty certification when he wanted to return, which your company uniformly requires before returning from FMLA leave.
The court rules that after 12 weeks of FMLA leave are exhausted, the employee has no entitlement to reinstatement —at least under the FMLA. The FMLA provides that an employee returning from FMLA leave who cannot perform the essential functions of his job due to a physical condition, need not be reinstated or restored to another position, such as a light-duty position.
Termination caused issues
Unfortunately, the employer in this case did not fare so well on the retaliation claim. Sean's termination occurred shortly after his FMLA leave ended, making the termination look like it might be based on the leave. Sean's supervisor also made remarks that he was suspended because corporate did not like the timing of his leave. So, the court was left with a question as to whether the leave was the real cause behind the termination, and felt this was to be answered by a jury.
Of note in the court's opinion was that, when it comes to looking at the timing of FMLA leave in relation to an employment action (such as termination), the court would likely focus on the time the leave ended, as opposed to when the leave began. Otherwise, measuring the time from the date an employee first began FMLA leave would disadvantage the employee. If an employee took three months of leave, he would have a hard time arguing that the time between the protected action (in this case, the beginning of leave) and the termination were related.
Jones v. Gulf Coast Health Care of Delaware, LLC, 11th Circuit Court of Appeals, No. 16-11142, April 19, 2017
This article was written by Darlene Clabault of J. J. Keller & Associates, Inc.
---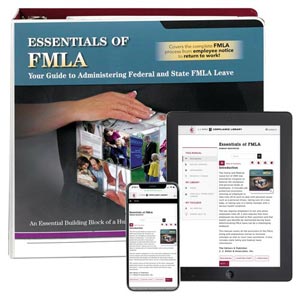 J. J. Keller's Essentials of FMLA manual helps HR pros understand and comply with the FMLA rules, control costs related to leave taken, and minimize the law's potential disruption to their organizations' operations.
---
J. J. Keller's FREE HRClicks™ email newsletter brings quick-read human resources-related news right to your email inbox.