Do you know the real reason employees are leaving your company?
Posted May 19, 2017
Many employees are considering leaving their jobs and the reasons for them doing so might not be what employers think.
Forty-two percent of employees said they're likely to look for a new job within the next year, according to a new survey from Robert Half. For respondents ages 18 to 34, the number likely to seek new employment in the next 12 months jumps to 68 percent.
Part of the retention challenge for executives is understanding why a good employee might want to leave. Inadequate salary and benefits is the top reason workers said they would quit. However, CFOs reported the number-one reason they think good employees would resign is limited growth potential.
The survey asked employees, "How likely are you to look for a new job in the next 12 months?" Their responses:
Very likely — 17 percent
Somewhat likely — 25 percent
Somewhat unlikely — 28 percent
Very unlikely — 29 percent
CFOs were asked, "Which
one of the following is most
likely to cause good
employees to quit their
jobs?"

Workers were
asked, "Which one
of the following is
most likely to cause
you to quit your job?"

Limited opportunities for career growth or advancement

27%

14%

Inadequate salary and benefits

23%

39%

Bored with job

18%

10%

Unhappiness with management

13%

25%

Overworked

10%

9%

Lack of recognition

8%

3%

Don't know

2%

0%
The survey provides five tips to help reduce turnover:
Gauge job satisfaction. Don't presume all is well. Ask people what they think about their work, such as how interesting or challenging they find it. Regular one-on-one meetings are effective, but for brutally honest feedback, such as worker happiness with management, consider conducting an anonymous survey.
Increase salaries. It's no secret that money talks — and persuades or changes minds. If it's been some time since you've evaluated your company's compensation structure, benchmark current employee wages against other sources. Strive to offer above-average compensation for your city and industry.
Leverage bonuses. These financial incentives are one way to retain highly skilled team members, especially if your company is undergoing a major change like a merger or acquisition. In addition to merit-based rewards, look for opportunities to award spot bonuses following key projects or periods of extraordinary performance.
Help employees recharge. Even well-compensated staff are more likely to quit if they're continually stressed and overworked. Increase the chances of keeping staff by allowing them the freedom they crave. Think autonomy, flextime, remote work, on-site amenities, and generous paid time off.
Show them the way. If employees don't see an obvious path upward within the company, they'll make their own way — out the door. Keep today's top performers and tomorrow's leaders motivated by having regular discussions about in-house growth prospects, as well as your company's willingness to invest in their future.
About the research
The surveys were developed by Robert Half and conducted by independent research firms. The survey of workers includes responses from more than 1,000 U.S. professionals age 18 and over and employed in office environments. The CFO survey is based on telephone interviews with more than 2,200 CFOs from a stratified random sample of companies in more than 20 of the largest U.S. metropolitan areas.
---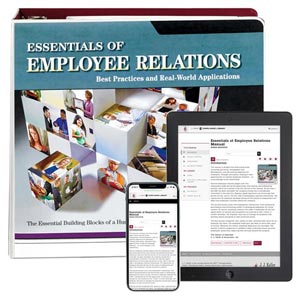 J. J. Keller's Essentials of Employee Relations Manual provides critical HR best practice tips and real-world applications in one convenient resource.
---
J. J. Keller's FREE HRClicks™ email newsletter brings quick-read human resources-related news right to your email inbox.