CSB investigation reveals shortcomings in maintenance activities
Posted May 19, 2017
The U.S. Chemical Safety Board (CSB) released its findings on an investigation into a 2015 chemical release and flash fire at a Delaware refinery. The Board also published an accompanying safety bulletin titled, "Key Lessons for Preventing Incidents when Preparing Process Equipment for Maintenance."
According to CSB, more than a third of the incidents investigated by the Board occurred during maintenance activities, leading to 86 deaths and 410 injuries.
In the case of the incident at the refinery, CSB says workers were performing non-routine work involving alkylation unit operators preparing equipment for maintenance. Before performing the work, the operators had to drain and isolate a section of piping that would be replaced by closing valves to block the flow of hydrocarbons into the piping.
However, a leaking valve prevented a proper seal, causing operators to expand the isolation to a block valve further downstream. CSB points out that the next available valve included additional equipment that was not included in the original isolation plan, but needed to be drained to ensure complete removal of flammable hydrocarbons. Even so, operators did not perform additional hazard review.
In the evening, after opening the drain valve to the sewer system, the nightshift operator was caught up in a flash fire and suffered second- and third-degree burns.
The CSB concluded that the refinery did not have general procedures for preparing equipment for maintenance or procedures for taking equipment out of service.
5 safety lessons
The Board identified five safety lessons in its safety bulletin, which apply to many high-hazard facilities:
Non-routine operational tasks surrounding maintenance should have standard operating procedures, covering tasks such as emptying, decontaminating, washing, steaming, purging, and draining equipment and vessels.
For all equipment preparation activities, develop a process that requires preplanning and hazard identification prior to initiating the work.
When isolating equipment for emptying or decontaminating activities prior to maintenance work, avoid reliance on single block valves. Always consider more protective measures for isolation such as including double blocks or blinds.
When an equipment preparation task or isolation plan needs to be modified or expanded due to leaking valves or changing conditions, evaluate the hazard.
Use closed systems such as tanks, drums, flares, etc.to control the draining, or relieving of hazardous energy in preparation to isolate equipment for maintenance.
---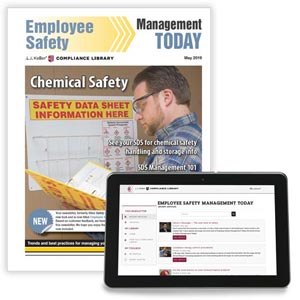 J. J. Keller's Safety Management Today Newsletter is packed with money-saving tips and practical advice that can result in improved on-the-job performance.
---
J. J. Keller's FREE Workplace SafetyClicks™ email newsletter brings quick-read workplace safety and compliance news right to your email box.