Are employees taking enough vacation?
Posted May 30, 2017
If you can't remember the last time you took a vacation, you're not alone. While American workers are stressed, they're not taking time away from work.
According to a new CareerBuilder survey, 3 in 5 workers (61 percent) say they are burned out in their current job, and 31 percent report high or extremely high levels of stress at work, yet a third of all workers (33 percent) have not taken nor plan to take a vacation this year.
Survey highlights
33 percent of workers said they won't be taking a vacation this year, down slightly from 35% last year
3 in 10 workers still stay connected with work during vacation
Nearly 1 in 5 have left vacation days unused in 2016
People in power positions — i.e., senior management and vice presidents — are the least stressed of all workers
Women were more likely to report high stress levels at work than men
Anger issues at work, depression, and sleepless nights are among stress-related symptoms workers say they have experienced
Are workers truly getting away or are vacations causing more stress?
When workers do take advantage of vacation time, they are often not fully disconnecting from their jobs — 3 in 10 (31 percent) check work email while away and nearly a fifth (18 percent) check in with work. More than a third (36 percent) say that they've returned from vacation to find so much work, they wish they'd never left at all, and 18 percent say vacations cause them to be more stressed out about work. This could be the reason nearly 1 in 5 (17 percent) left vacation days on the table at the end of last year.
How is stress negatively impacting workers?
Nearly a third of workers say work causes high or extremely high stress levels for them — an issue that is impacting women (34 percent) more than men (27 percent) — and 79 percent say their company does not offer classes or programs to manage that stress. As a result of stress, workers are experiencing symptoms such as:
Being tired all the time: 29 percent
Sleepless nights: 26 percent
Aches and pains: 24 percent
High anxiety: 23 percent
Weight gain: 18 percent
Can't keep things straight in their heads: 17 percent
Anger issues at work: 16 percent
Depression: 15 percent
High blood pressure: 10 percent
Weak immune system: 6 percent
Nausea: 5 percent
Hair loss: 5 percent
Stress is also impacting areas such as job satisfaction. A third of workers with high levels of stress (33 percent) say they are dissatisfied with their job. Seventeen percent of workers say they are dissatisfied with their job overall.
While stress and being burned out impact workers across the organization, the bottom ranks seem to be more burned out than others:
Senior management/vice president: 43 percent
Director/manager/supervisor/team leader: 69 percent
Professional/technical staff member: 58 percent
Entry level/administrative/clerical: 61 percent
How to take a real vacation
The following tips can help employees moderate working on vacation:
Tell coworkers you will be out. People will think twice about contacting you about the small stuff when you are on vacation. In addition, set an out-of-office message to let folks know you won't be answering emails or phone calls — or, if you will stay connected, explain in the auto-reply that they shouldn't expect a reply right away.
Deploy and delegate. To make sure business and client needs are taken care of in your absence, set the auto-reply on your email to provide the names and contact information for the colleagues who are covering for you. Be sure to give those coworkers any important files, project statuses and other pertinent information so they won't have to contact you unless it's an absolute emergency.
Set aside check-in times. If you can't resist the call of duty — or find it nearly impossible to relax without knowing all is well — consider setting aside some time each day to touch base. Checking in once in the morning and once in the evening may give you peace of mind and permission to stop thinking about work the rest of the day. That way, you can leave your work cellphone turned off — and not feel bad about it — when you're supposed to be relaxing and having fun.
Survey Methodology
This survey was conducted online within the U.S. by Harris Poll on behalf of CareerBuilder among 3,215 employees (employed full-time, not self-employed, non-government) between February 16 and March 9, 2017 (percentages for some questions are based on a subset, based on their responses to certain questions). With a pure probability sample of 3,215, one could say with a 95 percent probability that the overall results have a sampling error of +/- 1.73 percentage points. Sampling error for data from sub-samples is higher and varies.
---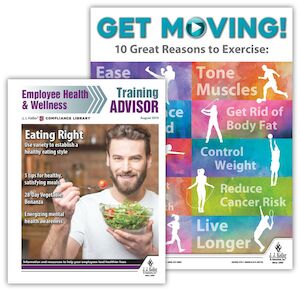 J. J. Keller's LivingRight®: Health & Wellness Awareness Program offers an easy way to help control healthcare costs and promote employee wellness.
---
J. J. Keller's FREE HRClicks™ email newsletter brings quick-read human resources-related news right to your email inbox.